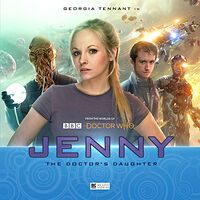 Description: Box set of original audio dramas featuring Jenny, the titular character in the 2008 Doctor Who TV episode The Doctor's Daughter. Followed by Jenny: Still Running.
Cover blurb:
Jenny is brand new to the universe. Born a soldier, made for war, she has a Time Lord's heritage. Luckily, that Time Lord is the Doctor.
She's ready to save planets, fight monsters, and save the day, using nothing but her bravery, wit and instinct — and an awful lot of running.

STOLEN GOODS BY MATT FITTON
PRISONER OF THE OOD BY JOHN DORNEY
NEON REIGN BY CHRISTIAN BRASSINGTON
ZERO SPACE BY ADRIAN POYNTON