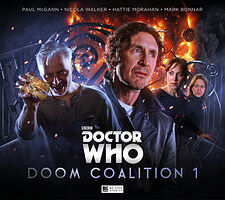 | | | |
| --- | --- | --- |
| | | |
| | Reviews for Doom Coalition 1 | |
| | | |
There are 2 reviews so far. To add a review of your own for this item, visit the voting page.
| | | |
| --- | --- | --- |
| | | |
| | Intriguing New Things for Doctor 8 | |
| | | |
By:
David Layton, Los Angeles, United States
Date:
Friday 14 October 2016
Rating:
7
This first part of a new "series" for Doctor 8 continues the Big Finish idea of using Doctor 8 as transition to New Who. Individual stories are around 50 minutes long, all are tied by a central story arc, yet some stories are fairly standalone while others full focus on the arc. Liv from Dark Eyes returns as the companion, and in story 2 they pick up a new companion, Helen Sinclair, a 1963 historian/archaeologist frustrated in her career goals, a kind mixture of Evelyn Smythe and Barbara Wright. The story arc involves the escape of a dangerous Time Lord criminal, The Eleven, and the Doctor's being recruited to find him. The four stories are of uniform quality, and each serves its function within the overall series well.

1. The Eleven. This story gets it all going. We meet The Eleven, a criminal genius Time Lord suffering from a unique condition - all of his previous ten regenerations still exist in his brain and they all try to take control. The setup is based on The Silence of the Lambs in which a young, female student interviews the psychotic genius. This paves the way for the escape of the psychotic genius. He causes chaos on Gallifrey, manages to get some Rassilon relics, but is curiously uninterested in the power he could have. Instead, his intention is to steal a TARDIS and escape. Why? Could be something more is at stake.

2. The Red Lady. Here we get introduced to our new companion in a story straight out of Hammer Horror. A collection of artifacts from around the world all contain a faint image of a mysterious red lady. But once she gets inside your head, watch out. It is quite creepy. It leaves far too many things unanswered, deliberately so according to the interview disc, but that still does not satisfy me. I want answers.

3. The Galileo Trap. Here is a long setup to episode 4. Someone is holding Galileo hostage as a lure for the Doctor. A pair of third-rate alien criminals with "full-body masks" have a great taste violence, and one just loves sucking the minds out of people. John Woodvine from "The Armageddon Factor" turns in a great performance as the aging Galileo.

4. The Satanic Mill. Here we have some classic-style Doctor Who. The Eleven is using an abandoned remote stellar manipulator prototype to both humiliate and destroy the Doctor at the same time, but hints that there is something more and he might not be working alone. The device itself, which is the size of a small planet supposedly, or at least the size of a large factory, seems to run by using people to drive treadmills. How this would ever generate enough power for the thing is unclear, as is the rationale The Eleven might have for setting it up this way.

Overall, this is an enjoyable start to a series. It doesn't get a high rating from me mainly because the stories all transcend the 50-minute limit in scope, and so there is some rushing of scenes and plot to make them fit.
| | | |
| --- | --- | --- |
| | | |
| | Exxtremely effective drama indeed | |
| | | |
By:
Matthew David Rabjohns, Bridgend, United Kingdom
Date:
Thursday 10 May 2018
Rating:
10
The Eleven introduces the Time Lord of the same name. Mark Bonnar is simply sublime as the Time Lord whose previous regeneration voices all jostle around in his head. It makes him a very unique villain and devilishly scray as heck. He has the right voice for the fear factor.

Nicola Walker as Liv Chenka is a stonecold classic companion if ever there was one. She is just like strawberries and cream when paired with Paul McGann. I really love her caring nature and her ever present defiance of any jerk off who comes up against her and the Doctor.

And then in the Red Lady we get the introduction of another stirling performer. This time in the shape of Hattie Morahan as the equally loveable and enjoyable Helen Sinclair. She is instantly extremely appealing as a character and already a scene stealer that bodes well for her next adventures with the Doctor and Liv.

The Red Lady also boasts a superb script from John Dorney. Its a genuinely unsettling and effectively chilling episode. What I love about stories of this kind is the villain is left unnamed and unknown. Just it has a very powerful and menacing presence through the episode. Its a brilliant debut for Helen and very creepy indeed.

The Galileo Trap then displays oodles of what it is that to makes Marc Platt one of Big Finish's most gifted contributors. he always makes you instantly care for his characters within the play. And its awesome once again to hear John Woodvine in a Doctor Who story again. And after his superb portrayal of the Marshall of Atrios with Tom Baker's Doctor, his warm characterisation of Galileo is welcome and great to listen to. The aliens in this story too are revoltingly sadistic and unpleasant. And also the bond between the Doctor, Liv and Helen is already going from strength to strength.

The Satanic Mill brings the first Doom Coalition to a an energy charged conclusion. The Eleven rears his evil and unsettling head and the stakes are pretty monumentally high in a great and easy flowing and accessible script by Edward Collier. The stories in this set are all superbly paced and never feels rushed at all. Paul McGann is on superb form and cements further clear evidence that he is indeed a ruddy amazing Doctor. And the cameo from
Sylvester McCoy in the opening story is nicely unexpected too!

Altogether Doom Coalition One whets the appetite rather a lot and leaves one waiting and eager for more. And the team of the Doctor, Liv and Helen is one of Big Finish's stellar successes indeed.