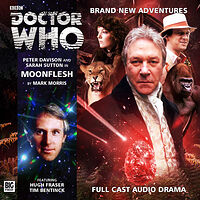 There are 2 reviews so far. To add a review of your own for this item, visit the voting page.
By:
Clive T Wright, St Lawrence, United Kingdom
Date:
Friday 2 May 2014
Rating:
7
A strong cast of interesting characters thrust together in a african hunting trip in England. Throw in the Doctor and an alien intelligence and it should have been a great story. In the end a fair story but too much running around and not enough plot for me.
By:
David Layton, Los Angeles, United States
Date:
Saturday 25 April 2015
Rating:
6
"Moonflesh" begins like a closet mystery. There is a pompous upper class jerk who has invited some other pompous upper class jerks for a get-together at his house. In this case, it is to do some sport hunting in 1911, with imported exotic animals as the game. Pompous jerk has a fainthearted daughter. Pompous jerk number 2 is a business owner. He has a wally for a son. Pompous jerk 1 has a Sioux manservant to say the usually vaguely spiritual things. There is also a lesbian feminist determined to do everything a man can do. This seems a fine enough setup for the closet mystery. But that mystery lasts one episode. The "moonflesh" gets released and the story turns into base under siege. All this might be fine, but the way it is dealt with is something else. We have an alien on the run. The alien police arrive to take it away, but they are just trackers, not the actual authorities. This seems placed simply to provide a needless plot twist to keep the otherwise weak story going. Then, there is the "ghost dance" sequence in which the Doctor and the Sioux somehow recreate a ghost dance, which is supposed to induce a meditative state, but here the Doctor and the Sioux go through harrowing encounters with Sioux gods while in the meditative state. It is pretty silly and not at all meditative. To be fair, the actors all give their best efforts and the sound design is very good.