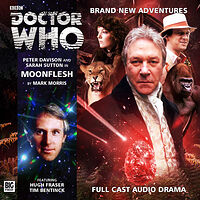 Cover blurb:
One wouldn't normally expect to find elephants, gorillas and rhinoceroses roaming free in Suffolk in the year 1911. One wouldn't normally expect to find an extra-dimensional police box at the same time/space location either. Two aliens, named the Doctor and Nyssa, exit said box, only to find themselves pursued by a hungry lioness — for they've landed in the private hunting grounds of the famous explorer Nathaniel Whitlock, who's brought together a motley group of friends and acquaintances for a weekend's shooting.
But one of Whitlock's guests isn't all they seem. One of them wants the secrets of the Moonflesh, the mystic mineral looked after by Whitlock's retainer, a Native American known as Silver Crow. Because the Moonflesh is reputed to have the power to call down spirits from another realm...
...and soon, the hunters will become the hunted.