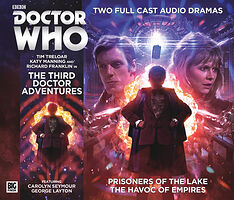 | | | |
| --- | --- | --- |
| | | |
| | Reviews for The Third Doctor Adventures | |
| | | |
There are 2 reviews so far. To add a review of your own for this item, visit the voting page.
By:
David Layton, Los Angeles, United States
Date:
Wednesday 18 October 2017
Rating:
9
This excellent bit of nostalgia gets nearly everything right. We get two stories very much in the manner of 1972 Doctor Who that also do not simply retread plots from that era. "Prisoners of the Lake" is an Earth-bound story following the "Quatermass and the Pit" style, with the discovery of an alien artifact leading to potential Earth annihilation. This time, the artifact is deep under a lake. There are some interesting ideas, such as a stone-based technology run by magnetism, an extension of the idea of ferro-magnetic tape. The story includes a typical cast of characters - corrupt project director, dedicated scientists, aggressive aliens, and so on. "The Havoc of Empires" is a space-bound story, also typical of 1972-3 stories such as the "Peladon" adventures and "The Mutants." The Doctor, Jo, and Mike Yates arrive via TARDIS on a space station that is the site of delicate interplanetary negotiations. Someone, though, does not want this plan to succeed. Jo gets an especially strong role here when she takes command by pretending to be the lead security investigator. She gets to take positive action without always consulting The Doctor.

The standout element of this collection has to be Tim Treloar's impersonation of Jon Pertwee's Doctor. At times, it is so exactly right that you would swear it really was Pertwee saying those lines. Treloar sounds more like Pertwee than Katy Manning and Richard Franklin sound like their younger selves. The one drawback for me is that Big Finish still wants to run past Doctor stories with narration. I still find the narration, even though this set does not have much of it, gets in the way. Despite that, these stories are superb testaments to the quality of early 70s Doctor Who.
By:
Matthew Kresal, Owens Cross Roads, United States
Date:
Saturday 20 October 2018
Rating:
9
With the winding down of the Companion Chronicles range and the launch of the Early Adventures, many wondered what Big Finish would do with the Third Doctor era. With the loss of many cast members from that era, and the unwillingness of John Levene to work with Big Finish again, speculation has been rife for sometime now. Well now we have our answer in the form of The Third Doctor Adventures Volume One, featuring Tim Trealor in the role of narrator as well as the Third Doctor alongside returning cast members from the era. Big Finish's trailer promised to be "recreating an era," but have they done so?

Let's start by looking at Trealor. Trealor has worked with Big Finish before, perhaps noticeably in Tom Baker's first Big Finish outing Destination: Nerva, and first played the Third Doctor in Big Finish's fiftieth anniversary outing The Light At The End. I was unimpressed with Trealor there and was immensely skeptical about his playing the role in this release. After all, I am a fan of the Pertwee era. It was the Pertwee era in large part that got me into Doctor Who back in 2007 (that's right, I found Doctor Who in the 21st century through the old series rather than the new one). Pertwee was my favorite Doctor until I found Sylvester McCoy's Seventh Doctor, though his Doctor remains high up on my list and that era remains my favorite. So for me, and I'm certain many others, the success of this venture would rest largely on his shoulders.

Having heard both stories now, I feel my skepticism was unfounded. Trealor does a marvelous job and has greatly improved since his rather dismal performance in Light At The End. Within the opening fifteen minutes of Prisoners Of The Lake, the story that opens this release, I was won over by his performance in a scene right out of the Pertweee era on TV: the Third Doctor having a confrontation with a bureaucrat (in this case the director of an archeological project). Trealor's performance was spot on and he went from strength to strength throughout the rest of the release. He's far closer to Pertwee vocally then he was nearly two years ago and, perhaps even better, he's really captured the vocal inflections of the man as well. While it might not quite be as well done as Frazer Hines' Patrick Troughton, Trealor's Pertwee is comparable to William Russell as William Hartnell. He captures the spirit and sometimes his voice with the results being both pleasing and authentic.

Moving on from Trealor, the rest of the cast is solid. Katy Manning and Richard Franklin reprise their roles from TV as Jo Grant and UNIT Captain Mikes Yates, respectively, which both have done for Big Finish before. Well Manning undoubtedly sounds older no matter how hard she tries, she nevertheless does well here and certainly captures the spirit of her 1970s self better than she did a short time ago in the main range release The Defectors. Franklin, who has become the last surviving member of the UNIT team in some respects, does a better job as he sounds very much like his 1970s self and gets a larger chunk of the action to take part in. Both of them do well and they seal this recreation of the era in many respects.

It also helps that there's a strong supporting cast as well. In both stories, Big Finish have put together a nice ensemble of actors including Caroline Seymour from Survivors and the ever dependable John Banks playing roles in the first story Prisoners Of The Lake. The second story, The Havoc Of Empires, features an equally strong cast including Hywel Morgan and Lucy Briggs-Owen as the leaders of the empires in question along with Helen Goldwyn in the roles of both a high-strung wedding coordinator and the AI of the space station where the story takes place. While Goldwyn's wedding coordinator is sometimes on the very edge of parody (if not annoyance), the results work with actors often playing multiple roles bringing them to life splendidly.

The scripts, written by Justin Richards and Andy Lane, are the backbone of this release and both serve it well. Richards is often noted for his writing of "Traditional Who" and Prisoners Of The Lake is no exception. It's a tale that echoes stories like The Daemons and The Sea Devils (for which some underwater planning was mooted by deemed unfeasible on a BBC budget) with its mix of a mysterious archeological site, underwater action, and a threat to Earth as we know it. Lane's script for The Havoc Of Empires takes the TARDIS away from Earth and into the future with a diplomatic wedding between the leaders of the human led Teklarn Incorporation and the Chalnoth Hegemony being put into jeopardy by what appear to be acts of sabotage that only adds to tension and distrust between the two sides. If Richards' script echoes the Earthbound parts of the Pertwee era, Lane's echoes stories like Curse Of Peladon and The Mutants while also managing to work in a decent thriller plot to keep in going. The fact that both of these stories are only four episodes helps and both writers make good use of Trealor as narrator, helping to get across more visual aspects of the stories while thankfully avoiding the cliches of describing things in audio that hurt the two Third Doctor audio stories that Pertwee himself starred in back in the 1990s for BBC Radio. The results are two solid, well-written tales that wonderfully evoke two different sides of the same era.

Elsewhere, Big Finish have set about making the release as authentic as possible. This is nowhere more evident then in the music of Jamie Robertson and Nicholas Briggs. Like Trealor's Third Doctor, they capture the spirit of an era of often experimental music scores. While there is perhaps a bit too much music at times and while it perhaps occasionally goes a bit too far in evoking the more experimental scores of composers like Malcolm Clarke (whose score for The Sea Devils divides fans to this day), there is no doubt that it certainly helps to complete a remarkable piece of work from everyone involved.

In the end, as both a Big Finish listener and as a fan of the Pertwee era, I can't help but sing the praises of this release. Trealor's Third Doctor is splendid, capturing the spirit of his Doctor in as respectful and exciting a manor as possible and there's solid performances all round. The writing and music both do what Trealor does: envoke the era without slavishly copying it. In a year of triumphant releases from Big Finish, including their Last Adventure with the Colin Baker's Sixth Doctor, this might be the most exciting release so far this year.

"Recreating an era"? Indeed it does.