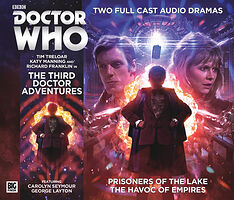 Cover blurb:
PRISONERS OF THE LAKE
WRITTEN BY JUSTIN RICHARDS
Captain Mike Yates is investigating the disappearance of artefacts from an archaeological site deep below Dunstanton Lake. It's hardly a job for UNIT. But when the team discover a mysterious ancient structure buried deep underwater, all that changes.
As an ancient menace begins to stir, the Doctor, Jo Grant and Mike Yates must dive down to the lake bed and discover the secrets hidden there. Secrets that could mean the end of all life on Earth...
THE HAVOC OF EMPIRES
WRITTEN BY ANDY LANE
The Doctor and Jo take Mike Yates on his first trip in the TARDIS, but instead of the historical cricket match they were aiming for they end up on a futuristic space station in the middle of a diplomatic crisis that might escalate into galactic war.
The Doctor is accused of murder while explosions occur across the station, and only Jo Grant, pretending to be a security consultant, can save the day. But then, there's the Eels to consider...