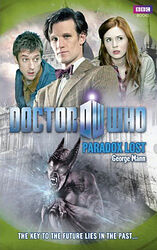 There are 4 reviews so far. To add a review of your own for this item, visit the voting page.
By:
Hessel Hoekstra, Maassluis, Netherlands
Date:
Saturday 20 August 2011
Rating:
9
This book's plot is original and complex, while it also contains a kind of familiarity but which makes perfectly sense. Nice characters, scary creatures and a perfect setting to fit this story in.

This is one of the better books
By:
Adam Regula, Horseheads, NY, United States
Date:
Monday 4 June 2012
Rating:
9
A complex and thrilling tale fully of noodley - soup time travel goodness! Very compelling characters and a really fun ride! I hope to see these villains again. One of the best of the new series so far.
By:
Steve D, Bristol, United Kingdom
Date:
Wednesday 11 July 2012
Rating:
4
I am new to reading the Doctor who adventures and this is my second book. The book itself starts in the normal fashion of any adventure and can be easily imagined as a TV series episode. To me around half way through the book it seemed the author decided to over explain and describe things such as the creature's description is mentioned around 3 times which i found very frustrating and was used "just to fill pages". This happens all through the book constant descriptions of things that do not need to described and are irrelevant to the story. The story its self reminded me of the eccelston adventure "Fathers day" which i thought was kind of cheap seeing that we have seen these monsters (or similar) on our tv sets in 2005. In all a good read if your not a big fan of Doctor who and just fancy an adventure. On the other hand stay well clear if your a who addict as this will fall short of your expectations by miles.
By:
Nathan Harrison, Basingstoke, United Kingdom
Date:
Sunday 2 June 2013
Rating:
8
Paradox Lost is a good read that keeps you drawn in. Characters are well used and the plot is "timey-wimey" which I love.