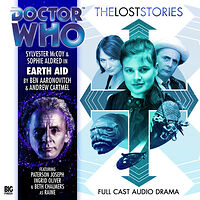 | | | |
| --- | --- | --- |
| | | |
| | Reviews for The Lost Stories: Earth Aid | |
| | | |
There are 2 reviews so far. To add a review of your own for this item, visit the voting page.
| | | |
| --- | --- | --- |
| | | |
| | A great end to a great season | |
| | | |
By:
Matthew David Rabjohns, Bridgend, United Kingdom
Date:
Monday 23 January 2012
Rating:
10
Id love to hear more from Andrew Cartmel's Raine. Beth Chalmers was chosen well to play the part. She's a ruddy brilliant character in the first degree. She holds her own against the already tough to beat duo of the Doc and Ace, adds spice aplenty which makes these lost stories really enjoyable for me. And all Andrew's scripts just have a major good plot line, but not several offbranching loads of incomprhenesible rubbishes! Its just good story telling, laced with some brilliant characters and some soaring humour too. Sylvester and Sophie are as brilliant as ever, delivering that same quality that makes every one of their stories something memorable and special. And the Grub/ Metatraxi story line is done brilliantly, and I love the characterisation of the Grubs in particular! A great end to a great season that should have been put on screen.
By:
David Layton, Los Angeles, United States
Date:
Saturday 3 November 2012
Rating:
6
"Earth Aid" has much of what is the best and worst of the Cartmel approach to "Doctor Who." On the one hand, we get an interesting plot with multiple twists. Characters are nicely differentiated. On the other hand, the villains are rather one-dimensional, even with an unusual psychology. The script is rather joky, sometimes in wrong places. The story starts in the middle of things, with the Doctor already operating from a plan. I was not much of a fan of these "Doctor hatches a plot" stories, such as "The Happiness Patrol." On a side note, Beth Chalmers as Raine sounds uncannily like Bonnie Langford.