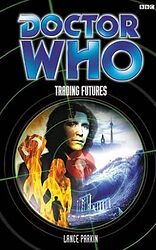 | | | |
| --- | --- | --- |
| | | |
| | Reviews for Trading Futures | |
| | | |
There are 4 reviews so far. To add a review of your own for this item, visit the voting page.
By:
Joe Ford, London
Date:
Sunday 12 May 2002
Rating:
8
Lance Parkin is an extremely popular Doctor Who author on on the basis of this book it is easy to see why. It's a decent James Bond parody (although maybe that's not such a good thing as I hate Bond!) but a good Doctor Who story. It has a wonderful whismical quality with plenty of great lines and moments to cherish. And the ending, a mish-mash of violence, humour and time travelling coffee is just too brilliant to not mention.
By:
John Ellison, Atlanta, Georgia, USA
Date:
Wednesday 17 July 2002
Rating:
9
In my opinion Lance Parkin is probably the best Doctor Who novelist currently writing. He always seems to deliver something different than his previous offering and manages to find the Doctor as well as his companions when writing (sadly not every author does).
I found the plot to be very interesting and truly enjoyed the role Fitz ended up enduring. Just enough camp to offset the overall story! Also, the setting was haunting--one only need look to the headlines to see the growing rift between the USA and European nations.
Ultimately, Parkin delivers! I found it difficult to put this one down until I knew what was going on. How long until your next one Mr. Parkin?
| | | |
| --- | --- | --- |
| | | |
| | Bundles of action and humour | |
| | | |
By:
Cam Cobb, Canada
Date:
Monday 7 October 2002
Rating:
9
UPSHOT - It's America versus EZ and a new superspy has entered into the equation ... and he's got a blue shed!
THE GOOD - I've heard quite a bit about Lance Parkin and so I decided to make my first EDA a Parkin-adventure. Wow! I really should pat myself on the back for starting with such a fab story! Bundles of action and humour.
THE BAD - Who the heck is this Sabbath guy? He frightens me!
THE UGLY - Finishing this book is like going back to work after a wonderful vacation in Florida.
By:
Gary Pryke, Ipswich, Suffolk
Date:
Tuesday 27 September 2005
Rating:
7
I was kind of expecting something similar to Endgame with this book but instead it's more like a Bond movie. In fact the character of Cosgrove is quite obviously played by Sean Connery. The opening of the book is brilliant, the use of Fitz in the novel is superb, the time travel plot is very well done but I did tire of it a little in places.