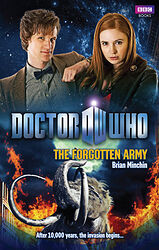 | | | |
| --- | --- | --- |
| | | |
| | Reviews for The Forgotten Army | |
| | | |
There are 3 reviews so far. To add a review of your own for this item, visit the voting page.
By:
Violet, london
Date:
Thursday 3 June 2010
Rating:
10
brian minchin is a genuis, the who story line was phenominal. i really got into the story. welll written.
this story is about a mammoth in the new york history musuem. the fbi are ready to shoot it down but the doctor has other plans. come on a white mamoth? might aswell be something else?
By:
C G Harwood, Dunedin, NZ, New Zealand
Date:
Thursday 19 August 2010
Rating:
6
I have loved the first to books in the 11th Doctor series, so i had huge expectations for this one (maybe that was the problem). Unfortuanatly I really didn't like this one.
The plot was very silly, and the constant amount of sarcasm between the Dr and Amy was great the first few times but after a while just started to get on my nerves. The police and NYPD Commander Jackie Stebbins I didn't care about and if they were all wiped out it wouldn't have worred me.
What i did like thoe was there were a lot of referances to the tv series, particaly the Dalek 2 parter set in New York when Tennent was the Dr. And I particualy loved the referance to Torchwood - Children of Earth.
This book was ok, there was enought in it to keep me reading and I did want to know what happened next. I will put this in the same pile as Sting of the Zygons, and Love and War (new adventure novel) - ok i've read it, now it will be on my bookshelf gathering dust.
| | | |
| --- | --- | --- |
| | | |
| | INVASION OF THE LITTLE MEN | |
| | | |
By:
Adam Regula, Horseheads, NY, United States
Date:
Wednesday 9 March 2011
Rating:
7
Not as bad as some people are making it out to be. I thought The Forgotten Army was a good read, but not as good as the first two 11th Doctor novels. The mastodon - ship was the coolest part in my opinion; and when the doctor tries to cram himself into it had me cracking up.

Worth the read for a fun afternoon.