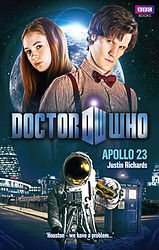 There are 3 reviews so far. To add a review of your own for this item, visit the voting page.
| | | |
| --- | --- | --- |
| | | |
| | Very Intricate, Clever Story! | |
| | | |
By:
Tom Moloney, n/a, Ireland
Date:
Monday 14 June 2010
Rating:
7
The opening of The doctor and Amy turning up at the shopping centre is very well done and does not drag on for very long, Amy on the run from the crew of the ship and trying to unscramble what the unconscious woman has to say: Brilliant!!! A really good novel, although could have done with more Geronimo's (like the tv series as matt smith has only really said two or three times)
By:
C G Harwood, Dunedin, NZ, New Zealand
Date:
Sunday 8 August 2010
Rating:
9
If this is going to be the standared for the 11th Doctor novels then we are in for a great period of Dr Who. I went into this with no expecttions and was absolutly thrilled with what i got. All the charactors were well writen and i generaly cared about all of them. The Doctor and Amy were also well writen and the bit with the parking warden at the start was one of the funnest things I have read or watched in Dr Who (always wondered what would happen if you showed the wrong side of the psychic paper).
The plot was good, even if the aleans were a little bit hard to belive but it didnt take me out of the story. And i like the nod to the Troughton story Seeds of death with the with the T-mat transport system between the earth and the moon.
Great story, great writing and if this is what we have in store for us, then I am one very happy fan. I would love to give this to Mr Moffit and see what he could do with this on TV (wishfull thinking).
No hesatation in giving this a 9 out of 10
By:
Adam Regula, Horseheads, NY, United States
Date:
Wednesday 9 March 2011
Rating:
8
This was my first doctor who novel ever. I have been a huge fan of the show for a long time (when I was growing up in the 80s you could only see Doctor Who late at night on Public Television) and I'm glad to start seeing doctor who fiction more common in book stores. A great start for the new doctor I thought. As always a little short but a quick and clever plot, with a few moments that make you laugh out loud.