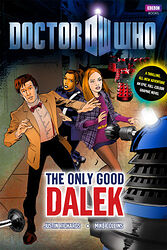 | | | |
| --- | --- | --- |
| | | |
| | Reviews for The Only Good Dalek | |
| | | |
There are 2 reviews so far. To add a review of your own for this item, visit the voting page.
At first the Only Good Daleks seems like nothing more than one big fan piece right down to listing various lists of Dalek servants and featuring some Skaro home grown creatures and explains much.
The Dalek decit is the main focus of the graphic novel and the characters are strong but some twists could easily been seen by someone who isn't enjoying the story. Fans of Power and Evil of the Daleks will enjoy the themes explored here and ultimately Richards and Collins are hoping a sequel can be arranged with their classic indestrucible dalek army seeing this is first orginal graphic novel based on the new series after the Dalek Project was suspended or possibly cancelled Dalek Project, which had similar themes to Victory of the Daleks.
Comic fans will enjoy this more as the style can easily be spilt up with every few pages or so almost having a mini cliffhanger so the action never ends.
While a classic Dalek romp with explores further the themes of the 2nd Doctor Dalek stories this isn't something incredible and out of this world brillant but still you can't go far wrong with this and you should probably add a 0.5 onto that 8.
| | | |
| --- | --- | --- |
| | | |
| | Love the Hardcover Graphic Novels!!! | |
| | | |
By:
Adam Regula, Horseheads, NY, United States
Date:
Wednesday 9 March 2011
Rating:
10
Aesthetically speaking this book is above and beyond. The hardcover format is great, and the dust jacket is very sharp looking. The colors and paper quality are also top notch.

The story itself is also very good, and the artwork has a great style (although you can notice the computer generated Daleks sometimes). The plot is very fast paced with plenty of old series references. If you look close in the very beginning you can see a chart on the office wall with the evolution of the Daleks, including the special weapons Dalek!

More BBC hardcover format Graphic Novels please!!!