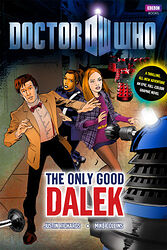 Description: Original Doctor Who graphic novel featuring the Eleventh Doctor battling the Daleks.
Cover blurb:
'Have you ever seen a Dalek? Ever fought one? Have you any idea what they are really like? I've been on the front line. I've seen whole planets destroyed. The only good Dalek is a dead Dalek.'
Inside cover flaps read as follows:
'Station 7 is the most secret establishment in the whole of Earth-Space. Even our own people don't know it exists. It's beyond top secret. There's no way the Daleks can ever find it.'
Station 7 is where the Earth Forces send all the equipment captured in their unceasing war against the Daleks. It's where Dalek technology is analysed and examined. It's where the Doctor and Amy have just arrived. But somehow the Daleks have found out about Station 7 — and there's something there that they want back.
With the Doctor increasingly worried about the direction the Station's research is taking, the commander of Station 7 knows he has only one possible, desperate, defence. Because the last terrible secret of Station 7 is that they don't only store captured Dalek technology. It's also a prison. And the only thing that might stop a Dalek is another Dalek...
An epic, full-colour graphic novel featuring the Doctor and Amy, as played by Matt Smith and Karen Gillan in the spectacular hit series from BBC Television
JUSTIN RICHARDS is a well-known author of children's fiction, including the novels The Death Collector, The Parliament of Blood, The Chaos Code and The Chamber of Shadows, as well as the School of Night series. He also writes the Agent Alfie series for younger children, and collaborates with Jack Higgins on thrillers for young adult readers. Author of a good number of Doctor Who books, Justin acts as Creative Consultant to BBC Books for all its Doctor Who titles.
MIKE COLLINS is an illustrator who has worked in books, comics, film and TV for over twenty years in the UK, USA and Europe. He has drawn comics based on many TV and film properties: Star Trek, Babylon 5 and The Time Machine amongst others. He's also the author/designer of the first Welsh language graphic novel, Mabinogi, based on the animated film. Best known for illustrating Doctor Who Magazine's long running comic strip, he also draws a series of graphic novels based on Norway's most famous private detective, Varg Veum. His adaptation of A Christmas Carol for Classical Comics was picked by The Times as one of their choices for Top Graphic Novel for Christmas 2008.