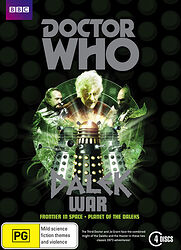 There are 4 reviews so far. To add a review of your own for this item, visit the voting page.
| | | |
| --- | --- | --- |
| | | |
| | Earth v Draconia v the Ogrons v the D... | |
| | | |
By:
Huw Davies, Taunton, United Kingdom
Date:
Thursday 15 October 2009
Rating:
10
Here we have the main part of I'm sure many Who fans' Christmas lists - the Dalek War boxset. Along with The War Games, this is 'the' release to have of 2009, and on watching it it's clear to see why.
'Frontier in Space' is a pretty good show; a space opera of sorts, with loads of good-looking locations and model sequences, and of course the Master. Two downers for me: the rubbish Ogron 'bag monster' and the constant plot thread of the Doctor and/or Jo getting locked up does get tiresome. Extras include 'The Perfect Scenario' (more on that later) 'The Space War', a great little featurette, and an entertaining commentary.
'Planet of the Daleks' just as good in my opinion, and with Daleks without Davros you can't really go wrong! We get to see the Thals again in this story, plus the BRILLIANT Dalek Supreme. Forget the Red Dalek in the 2008 series, this is the best Dalek EVER. Extras include 'Perfect Scenario' Part 2 - an experiment which I think paid off, a super 'Stripped for Action' on the Daleks, and a blessing in disguise of a Blue Peter film featuring the famous stolen Daleks incident.
Overall, a fab set. You thought The War Games was good? You ain't seen nothing yet!
| | | |
| --- | --- | --- |
| | | |
| | Nostalgia is made of this | |
| | | |
By:
Trevor Smith, Nottingham, United Kingdom
Date:
Monday 2 November 2009
Rating:
9
Two absolute third doctor classics are brought together in this wonderful box set.
Frontier in space is a wonderful space opera full of pace, excitement, thrills n spills in which the third Doctor & Jo face off against the Master (Roger Delgardo in his final role) while trying to keep Earth & Draconia from a devastating war. The Draconians are, for me, one of the best realised Who monsters ever & just when you thought it couldn't get any better the Daleks turn up !
Planet of The Daleks is a great Doctor v the daleks runaround full of great action scenes & now with episode 3 in full glorious colour !
The extras are a mixture. On one hand there is the always wonderful Stripped for action. Third Doctor on Frontier & The Daleks on Planet. There is a wonderful doco on Roger Delgardo which is interesting & very moving.
On the other hand there is a pseudo doc called Perfect Scenario which is set in the future in which a script writer searches through Doctor Who for inspiration. This, in my opinion is the worst extra on any of the Doctor Who DVDs ever.
Apart from that this is a wonderful box set that for me is second only to The War Games in this years release.
By:
Mark Finney, Richmond, VA, USA
Date:
Wednesday 14 April 2010
Rating:
10
All the key ingredients for the best of Doctor Who; Pertwee, Delgado, Jo Grant, Daleks, and outer space!
| | | |
| --- | --- | --- |
| | | |
| | Do not fail the Daleks, stupid tin boxes | |
| | | |
By:
Matthew David Rabjohns, Bridgend, United Kingdom
Date:
Thursday 5 May 2011
Rating:
10
Frontier In Space and Planet of the Daleks are very very good slices of Doctor Who.

Frontier In Space is one of the best space operas Doctor Who ever attempted. Here at last we get an alien race that isnt inherently evil, in the very well designed Draconians. And we also see the return of the realistic Ogrons too. Even that Ogron eating bouncy castle doesnt upset the brew at all, for I can see the pros far outweigh the cons with this brilliant tale. It has a steady and engaging pace. I really like some of the characters in this one, especially the President of Earth, Vera Fusek is brilliant! Roger Delgado also makes a brilliant final appearance as the Master, with all his usual guile and charm mixed together perfectly. Its so sad this was his last appearance in the show. He is part of what made the Jon Pertwee years so memorable.

Planet of the Daleks is like a comic strip on screen, it has a comic strip lot, it has comic strip lines and is totally brilliant from the word go. As a follow on from the previous Frontier in Space it wraps up the story arc so very well indeed and is a great return by Terry Nation to the series. The recolourised episode three really is a most unexpected extra, and is really good to watch. This story has great action moments, great moments of drama and great moral points too. These two tales that are really one are two of the best in all of Doctor Who. The characters in Planet of the Daleks are all very well portrayed too, Bernard Horsfall impresses as does Prentis Hancock. But my favourite character is Rebec. She always has been a favourite of mine. These are definiteely worthwhile stories. Great stuff!!