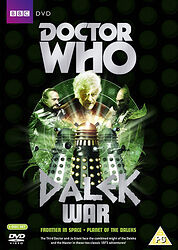 Edition:
UK (DVD)
Released:
October 2009

Publisher:
BBC Video
Format:
4 x DVD
Owned:
Buy:
Cover blurb:
The Third Doctor and Jo Grant face the combined might of the Daleks and the Master in these two classic 1973 adventures!
The cover blurbs from the 2 individual DVDs in the box set are as follows:

Frontier in Space:
It is the year 2450, and a fragile peace exists between the great empires of Earth and Draconia. The TARDIS materialises aboard an Earth cargo ship which comes under attack. Arrested and accused of espionage, The Doctor is sentenced to life imprisonment on the Moon, but salvation arrives in an unexpected form... Can the Doctor and Jo stop the Master's plans to provoke a galactic war and reveal the deadly enemy waiting for the chance to destroy both empires?
SPECIAL FEATURES:
Commentary by Katy Manning (Jo Grant), Barry Letts (Producer) and Terrance Dicks (Script Editor), moderated by Clayton Hickman
Perfect Scenario: Lost Frontier In the far future, Zed, a young scenariosmith,turns to the world of Doctor Who to help him connect to his audience. Including interviews with Vera Fusek (The President) and Michael Hawkins (General Williams)
The Space War Cast and crew look back at the making of the story
Roger Delgado: The Master A biography of actor Roger Delgado, featuring unseen photographs, rare excerpts from his TV appearances and interviews with those who knew and loved him
Stripped for Action — The Third Doctor The series looking at the Doctor's comic book adventures reaches his third incarnation
PDF materials Production design drawings, Radio Times listings and BBC Enterprises sales literature (DVD-ROM — PC/Mac)
Production Information Subtitles
Photo Gallery
Easter Egg
Coming Soon Trailer
Digitally remastered picture and sound quality
This story was originally broadcast on BBC1 between 24th February — 31st March 1973

Planet of the Daleks:
The TARDIS arrives on Spiridon, an inhospitable planet where the vegetation is hungry and extremely dangerous. The Doctor has been badly hurt and has fallen into a coma, so it's up to his concerned assistant Jo to leave the safety of the TARDIS to find help. She soon discovers a jungle containing invisible creatures, and that the planet is hiding a terrible secret about The Doctor's oldest enemy, the Daleks...
SPECIAL FEATURES:
Commentary by Katy Manning (Jo Grant), Prentis Hancock (Vaber), Tim Preece (Codal), Barry Letts (Producer) and Terrance Dicks (Script Editor)
Perfect Scenario: The End of Dreams Continuing his search for inspiration, Zed resumes his studies of Doctor Who. Including interviews with Jane How (Rebed), Janet Fielding (Tegan), and Bernard Horsfall (Taron)
The Rumble in the Jungle Cast and crew look back at the making of the story
Multi-colourisation A documentary about the colour restoration of episode three
Stripped for Action — The Daleks The ongoing series looking at the Doctor's comic book adventures focuses on his deadliest foes
Blue Peter Two items from the long-running children's programme featuring an appeal for information on the theft of two Daleks from the BBC
Radio Times Billings (DVD-ROM — PC/Mac)
Production Information Subtitles
Photo Gallery
Easter Egg
Digitally remastered picture and sound quality
This story was originally broadcast on BBC1 between 7th April — 12th May 1973