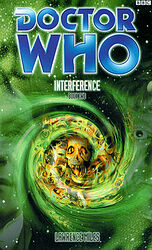 | | | |
| --- | --- | --- |
| | | |
| | Reviews for Interference: Book Two | |
| | | |
There are 4 reviews so far. To add a review of your own for this item, visit the voting page.
By:
Glyn Viney, Isle of Wight, UK
Date:
Friday 5 August 2005
Rating:
7
Right... so I.M. Foreman's travelling circus, IS I.M. Foreman... The 3rd Doctor gets shot and regenerates, and the 8th Doctor doesn't do a great deal. Still, not a bad read.
By:
Merlin, England
Date:
Monday 29 August 2005
Rating:
7
I think the fact that the third Doctor regenerated at the end of the book is stupid because he is suppose to regenrate at the end of planet of the spiders.
By:
Matt Saunders, Buckinghamshire, United Kingdom
Date:
Wednesday 18 January 2012
Rating:
10
People commenting here seem confused. The point is that Faction Paradox have changed when the Third Doctor will regenerate and thus changed lots of stuff for the Eighth Doctor. It's meant to be a little confusing, and it's meant to take the novels as they mean to go on! Later on Gallifrey is destroyed. However, don't worry - things will work out in the end, but do damage the Eighth Doctor for a long, long time. I can't recommend this enough! :)
| | | |
| --- | --- | --- |
| | | |
| | Timey-Wimey before the term came about.. | |
| | | |
By:
Jay Barry, Wellington, New Zealand
Date:
Sunday 10 November 2013
Rating:
10
This book is fantastic, following up from threads that were dangled in the first part, and various titles already released at the time. Threads like why Sam finds Kode familiar, Sarah's memories are hazy etc.

For those who complain that the ending with the Third Doctor dying on Dust doesn't tally with established events, that's the point. Taking a moment we all know about, rely on, and twist it. It does get restored, but for now the continuity that is integral to our understanding the Doctor's life, has , in the words of the Father Kreiner at the and, substantially altered the timeline.

This two part novel has a feel of time going circular. The Eighth Doctor ends up drawing his predecessor the the planet that skews the timeline to that of which the Eighth Doctor is currently in. After hearing about I M Foreman discovering his future selves, the Doctor sets up that very encounter, with the present Foreman becoming his next incarnation, the second becoming the third etc.

A game changer to say the least, and a really good one at that. Read it if only for Sarah Jane, who has a fantastic rapport with K9 (she threatens to install Windows 98 on him at one point) and an Ogron called Lost Boy.