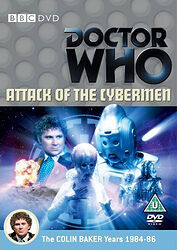 | | | |
| --- | --- | --- |
| | | |
| | Reviews for Attack of the Cybermen | |
| | | |
There are 5 reviews so far. To add a review of your own for this item, visit the voting page.
By:
Matthew David Rabjohns, Bridgend, United Kingdom
Date:
Thursday 19 March 2009
Rating:
9
Here is another example of Doctor Who being let down by only one main thing. Nothing to do with the acting or scripting this time on my part, but what is truly annoying about this story is its score. Boy this grates on me, spoiling what is otherwise one of my favourite Doctor Who stories of all time. The earthshock cyber heart beat effect is creepy, but the rest is too light and glitzy for so dark and humourless a tale. This story otherwise though has a lot to recommend. The cybermen return on fine form and actually get a good amount of scenes within the story. And the script editors notion that violence shouldnt actually be played down to become stagey or obviously stupid is a very good point. The parents know where the remote control is if the kids get scared. But it presents reality and not fiction, real violence is out there and is at times sadly unavoidable. Doctor Who never shies away from relevant points, whether it be moral points or physical points. The cast on this story are of a very high standard. David Banks again reprises his role of the Cyberleader, not quite as emotive as he was in earthshock. Michael Kilgarrif is back too, putting in a better performance than his original i feel, and do we actually hear his own voice for a change, cool! yes we do. The bickering between the doc and peri is really not as pronounced as in other stories like Timelash and Vengeance on Varos, which is a good thing. And the plot elements for once all seem to fit nicely into each other.

The cybermen are down in the swers of london again, secretly plotting to disrupt earth in 1986 to stop mondas from being destroyed. This is harking back to the past, but done in a fresh and realistic way. The cryons are a good new race of aliens. Yes, this all in all is avery good story indeed, if it werent for that annoying score....
By:
Trevor Smith, Nottingham, United Kingdom
Date:
Sunday 22 March 2009
Rating:
8
An excellent release. This is classic 80's Who. Colin Baker is an excellent Doctor in a very good, exciting paced story.
The extras are very good. A very good history of the Cybermen & a very good "Making of" documentary.
By:
Steve Hendry, Lincoln, England
Date:
Saturday 27 June 2009
Rating:
9
Two reviews down from mine is Matt from Poole's. Matt, you are a swine. I generally don't buy new releases, I usually wait until the price starts tumbling, but I read that review and bought the top drawer AotC on the strength of it. But had I not read that review I might not have noticed the vile score on this otherwise fantastic release. But in fairness I probably would have as it really is piss poor and easily the worst I've ever heard on Doctor Who. In fact I'd buy a special edition with the music removed tomorrow even having only bought this a week ago. But that's where my complaints start and finish because this is 80's Doctor Who at its gritty, tense, disturbing, violent and brilliant best. It makes a strong case for the forty-five minute format too. Imagine being back, Alex Drake-style, in the 80s. You could be watching this and positively frothing in anticipation of the equally gripping concluding episode after part one and then a couple of years later crying your eyes out after the opening episode of Delta and the Bannermen at the thought of it being nearly another month until things might get better (which in fact they wouldn't until a year later, again down Totters Lane). At least less good stories like DatB would have been over quicker. As far as I can gather quite a few people aren't as keen on Attack as I am, but I'm a massive fan of Saward's work and enjoyed his exploration of the Cyber back-story as well as the fanboy-pleasing location of the TARDIS' first landing in this story, two elements that others gripe about. Baker and Bryant are great value as ever, the latter's costume change midway through doing her no harm at all after the unflattering pink ensemble she was sporting to start with and (bizarrely, now I think about it) it was left to the Cybermen to recommend she wear more suitable clothing for the icy climes of Telos. Just a shame the Mondasians' answer to Gok Wan couldn't have sorted Number Six out with something a bit more tasteful as well. I reckon something like the Ninth Doctor's style of dress would have suited Colin Baker much better than that pantomime patchwork mess I always have to look past (but always see a great performance behind) when I watch his stories. And you can't ever go far wrong with the Cybermen, who are a tad brighter than in The Five Doctors and more vicious than in Earthshock. The Cyber Controller looks like he could do with losing a few pounds and I suspect he's been abusing his position by utilising Telos' expansive freezer space to keep his Vienettas (very 80s) and frozen curries. Or maybe he's the "upgraded" version of the Fat Controller from Thomas the Tank Engine. In all seriousness though, Kilgariff is good, just not as good as David Banks. Maurice Colbourne as Lytton and Brian Glover's bewildered, money-hungry crook Griffiths are the stand-out supporting acts. The extras aren't at all bad either. All in all I was always bound to like this but thanks to Matt for tipping the balance and convincing me to buy it, it's top stuff.
very good story, good to see an improvement in the sound and picture quality.
By:
Jay Y, Bear, DE USA
Date:
Thursday 18 November 2010
Rating:
8
I really enjoyed this DVD. Strong performance by Colin Baker, good effects, well put together story, and solid performances from the supporting players. Extras were also entertaining. THE Colin Baker is vastly underrated as a Doctor.