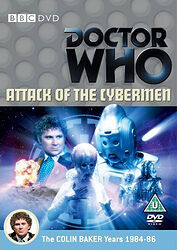 Edition:
UK (DVD)
Released:
March 2009

Publisher:
BBC Video
Format:
1 x DVD
Owned:
Buy:
Cover blurb:
The TARDIS is lured to Earth, London, 1985 by an alien distress signal. Investigating, the Doctor and Peri stumble upon an attempted bank robbery staged through the London sewers by a familiar foe — ex-Dalek agent, Lytton. But who is he working for this time?
For they soon discover there is something far nastier lurking in the sewers — Cybermen.
Why do the silver giants need a time machine? What is their devastating plan of attack? And what does it have to do with a catastrophic event that happened long ago in the Doctor's past?
SPECIAL FEATURES
Commentary by Colin Baker (The Doctor), Nicola Bryant (Peri), Terry Molloy (Russell), and Sarah Berger (Rost)
The Cold War Cast and crew look back on the making of the story, featuring writer Eric Saward, director Matthew Robinson, continuity advisor Ian Levine and film cameraman Godfrey Johnson
The Cyber Story A brief history of the Cybermen in the classic series
Human Cyborg An interview with Professor Kevin Warwick
The Cyber-Generations A gallery of Cybermen through the history of the series
PDF Materials Radio Times listings for Attack of the Cybermen and The Invasion, plus a 1969 article from The Listener (PDF DVD-ROM)
Isolated Score
Trails and Continuity
Photo Gallery
Production Information Subtitles
Coming Soon Trailer
Digitally remastered picture and sound quality
This story was originally broadcast on BBC1 between 5th — 12th January 1985