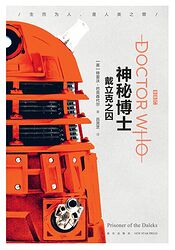 | | | |
| --- | --- | --- |
| | | |
| | Reviews for Prisoner of the Daleks | |
| | | |
There are 6 reviews so far. To add a review of your own for this item, visit the voting page.
This is now one of my most favorite Doctor Who Books of all time! The Wayfarer Crew were all brilliant characters, especially Koral and Cuttin Edge. Dalek X was Amazing! And the plot was great! It was perhaps a little rushed at the end but its forgivable because overall its such a great book. Its inspired me to write a Doctor Who Book!
| | | |
| --- | --- | --- |
| | | |
| | The best new Doctor Who book but..! | |
| | | |
By:
4nicolas2, Canada
Date:
Tuesday 7 July 2009
Rating:
9
Excellent book, of course, with the Dalek you need a good story to tell or you waste it all. It was written well enough, characters were great, I really like the setting in the Human Empire which permit space travel. The pacific Doctor is well written here, preventing even the suffering of a Dalek against intel of the ennemy. Several good parts of the book come to my mind when I think of it which never happened with the other Doctor Who books (except one).
The only major flaw in the book would be the incredible amount of stereotype sentences (allons-y, name and place dropping,...) the Doctor would say: this story don't really bring anything, it only resume what the Doctor is like. Otherwise, it's the only New Serie Doctor Who I would recommend for someone who don't watch the show.
By:
Tim, Australia
Date:
Tuesday 22 December 2009
Rating:
10
Relatively clever plot, excellent characterisation of the Doctor, especially in relation to the Daleks. Good application of not just the Daleks and the twisted timelines but also simple but intelligent use of some OldWho Dalek mythology.

Good original characters thrown into the mix, though they may have been used better. Great use of a Space-faring empire and war setting, interesting interactions and a very good climax to finish.

Definitely recommend this book to any fan.
By:
Ollie, ENGLAND
Date:
Saturday 3 April 2010
Rating:
9
Best new Who book, not only a gripping story but a vast range of characters which can be related to. One of the most thrilling Who reads ever.
By:
Chip, Rockville, MD - USA
Date:
Thursday 6 January 2011
Rating:
10
I dont usually go on about the books I have read, but this book was just plain terrific. The writing was very good, the characters were believable and interesting, and the portrayal of David Tennants Doctor was spot on! All in all, the BEST Doctor Who book I have ever read!
By:
Adam Regula, Horseheads, NY, United States
Date:
Wednesday 9 March 2011
Rating:
10
This was my first 10th doctor novel, and I absolutely loved it! Daleks (like most whovians) are my favorite villains and this book illustrates why they have been the Doctors longest and most feared foe. Dalek – X is a great character and I loved the idea of elite warrior Daleks with two gun arms. Very cool plot with well developed characters for such a sort book. All and all a great read!