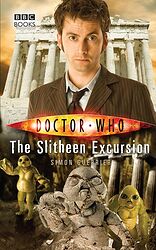 | | | |
| --- | --- | --- |
| | | |
| | Reviews for The Slitheen Excursion | |
| | | |
There are 4 reviews so far. To add a review of your own for this item, visit the voting page.
This book is pretty good. But at times its a little hard to understand. I like the idea of the doctor going back and forth to the same place in different times. The Slitheen lived up to there usual habits and the past humans were explored well. But still I can't help feeling let down by Simon G.
By:
Camden, Australia
Date:
Saturday 25 April 2009
Rating:
10
The Slitheen Excursion by Simon G. was great. The Slitheen family are causing mischef in Greece, full of monsters, excitment what else could you ask for?

June's charcter was good for a once off character, but wouldn't be good for further adventures. Still great to like.

Full of earthquakes, paradoxs, greek mythology and history, it's a must read!
| | | |
| --- | --- | --- |
| | | |
| | Not altogether that great | |
| | | |
By:
Tim, Australia
Date:
Monday 25 January 2010
Rating:
6
The Slitheen are once more the bad guys and once again they were okay but not all that interesting or impressive. The story was okay, the writing was good and the plot was original enough but the end product wasn't really all that great.

The Doctor wasn't particularly interesting, not a particularly stellar characterisation. The character of June, a one-shot companion, wasn't too bad though and didn't come off as overly good or bad and yet managed to avoid being unimportant - though many times it seemed her purpose was solely to be a witness to events not happening in the presence of the Doctor.

The only real saving grace for this book is that I'm an ancient history buff and I love reading stuff about Cretean, Mycenean and Greek history... which kind of ruined a surprise for me at one point, though I smiled anyway.

Wouldn't be on my list of 'should reads'.
By:
Ken Lawrence, Birmingham, United Kingdom
Date:
Wednesday 10 February 2010
Rating:
8
I really did not like the Slitheen in the TV Series (ok, well they werent that bad but the 'farting' really made me think its just toilet humour for children.

Luckily there's no farting in this book and really made me take note of the Slitheen and appreciate their plots. Interesting story, bit slow in parts and had me shouting at the book (like you do on the tv) "Do this!" and "Thats the answer, you've seen it 3 times already".

All in all, a great read, and leaves open opinion on Ancient Greek Monsters.