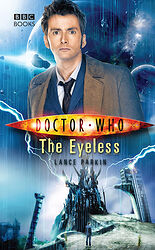 There are 5 reviews so far. To add a review of your own for this item, visit the voting page.
By:
Matthew, Leeds
Date:
Thursday 29 January 2009
Rating:
8
A good book with a nice plot+characters! The Eyeless are quite cool and I like how Lance has explored the character of the doctor on his own. Overall a good read and a deffo for all dr.who fans! (I know i always say that but there all so good!)
By:
Tim, Australia
Date:
Friday 6 February 2009
Rating:
10
I can't believe how goog this book was. It's far better than any other New Series book I've read so far. The character of the Doctor is amazing, exctly like David Tennant portrays him, with just the right mixture of excitement, despair and conviction. The original characters are diverse, fascinating and play important and enjoyable roles in the story.

The alien race Parkin created, the Eyeless, are remarkable, unique and very interesting antagonists. The plot is very both absorbing and its scope is amazing. This story has all the similar elements and gripping power of a series finale from RTD himself.

I'd give an 11 if the review system let me.
By:
Dean , West Midlands
Date:
Wednesday 26 August 2009
Rating:
10
I think that this is one of the best Doctor Who novels that i have read. The doctor on his own creates a new dynamic that has not been explored before. The mystery of the planet, the weapon and the eyeless is great throughout the book and come to a great climax at the end of the book.
The descriptions of the appearance and technology inside the fortress is great and really puts an image in the readers mind. The Eyeless make great enemies in the story and i would love for them to be brought into the TV series.
The tenth doctors personality is perfectly shown in this book as his fun and joking side is set against the stern and all knowing side that the doctor has.
A great read and an all round great story. Well worth a read 10/10
By:
Ollie, Kent
Date:
Monday 16 November 2009
Rating:
10
The Eyeless is the best Doctor Who read I've read. Building up on how the Doctor's dealing with his loneliness into a fast paced thriller of a book.
By:
Hessel Hoekstra, Maassluis, Netherlands
Date:
Sunday 19 February 2012
Rating:
9
Great book! The lonely Doctor was very well detailed, and the setting, writing style, and even the cover created an ultimate setting for the story. The story was very good, and the Eyeless were scary!