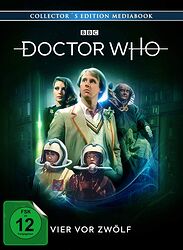 | | | |
| --- | --- | --- |
| | | |
| | Reviews for Four to Doomsday | |
| | | |
There are 4 reviews so far. To add a review of your own for this item, visit the voting page.
By:
Trevor Smith, Nottingham, United Kingdom
Date:
Tuesday 16 September 2008
Rating:
7
A forgotten gem in my opinion. I know this story isn't really well regarded by a lot of fans but I really enjoyed watching this again cleaned up on DVD. Top marks to Stratford Johns who really shines & some great sets. It's only a crap ending that spoils it. The extras are nothing really special. The first footage of Peter Davidson is a bit dull & there is a short but interesting interview from 1980 with the, then, new Doctor.
By:
Matt Saunders, Buckinghamshire, United Kingdom
Date:
Tuesday 23 September 2008
Rating:
8
The first and last time I watched this was on video. However, this DVD seems to make it much fresher and I enjoyed it throughly. The incidental music is painful (like all Davison era) but once you forget that - it becomes an enjoyable tale.
| | | |
| --- | --- | --- |
| | | |
| | OK story, very poor extras | |
| | | |
By:
Huw Davies, Taunton, United Kingdom
Date:
Friday 23 January 2009
Rating:
5
Four to Doomsday is not a bad story, (7/10 for me); a nice idea, and Stratford Johns as Monarch is very good. Plus the set designs are actually quite effective for the budget they would have had.
Unfortunately the extras are possibly worse than some of those of the days before 2|entertain took over the range; some boring studio footage, a fuzzy 1980s interview, and a poor attempt at redoing the Sid Sutton title sequence. Then I realise this has already been on the Castrovalva release! The only difference: it's in 5.1 - do I really care? Extras: 3/10
| | | |
| --- | --- | --- |
| | | |
| | Appealing visually and storywise | |
| | | |
By:
Matthew David Rabjohns, Bridgend, United Kingdom
Date:
Thursday 12 May 2011
Rating:
10
I have always really really liked this story. It has a kind of magic thats hard to nail down to one element. I love the three urbankans, especially Enlightenment. These three frogs look good at the start, but its a wise moves to make them human from the end of part 1.

Janet Fielding is who strikes me the most in this one. Tegan is really rather selfish and idiotic within this one, but this gives a real flavour to her character, which I have always loved. She even knocks Adric out, the evil little woman! Nasty little girl, although Adric is something of a spoiled brat played equally well (despite what a lot say) by Matt Waterhouse.

Sarah Sutton also shines, I just love her character to bits. Shes so kind and intelligent and a real different character from all those who came before, for she is about one of the only ones who never shouted at anyone, but saw the good in everyone. Its sad that most of the time she was relegated to TARDIS duties for a high number of stories.

I dont even care about the few plot niggles, for this is a highly tasteful and appealing slice of Doctor Who. The set design too is rather impressive as well, and Peter Davison comes to our screen for his first recorded Doctor Who story as a very very different Doctor to Tom Baker and all those before, at once being more human and in some respects more likeable. The android designs too are pretty impressive, and the first two cliffhangers are original and engaging. This story has good pace, and a lot of good ideas flowing throughout it. This was a very good start of the Terrence Dudley trio of stories throughout the Fifth Doctors time. Maybe none of them action packed horror fests, but steady and thoughtful with lots of highly likeable characters played well by all the cast members, and great bits of dialogue too.

This is an "oddball" story, but one that works very well indeed for me. Thanks for making this story BBC!