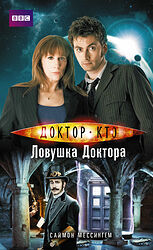 | | | |
| --- | --- | --- |
| | | |
| | Reviews for The Doctor Trap | |
| | | |
There are 3 reviews so far. To add a review of your own for this item, visit the voting page.
By:
Matthew, leeds
Date:
Saturday 13 September 2008
Rating:
8
What can i say about The Doctor Trap? well:great, brilliantly written, but also confusing in parts. It has a brilliant plot but i didnt feel the character of Donna was explored very well!! Still great though! If you want to read this then please see it through to the end as it can get a little conusing!!
By:
Tim, Maroochydore, Queensland
Date:
Friday 30 January 2009
Rating:
8
The idea of the Doctor being the prey in a bounty hunt the likes of which the galaxy has never seen waqs a great premise that could have brought a truly awe-inspiring story about... but wasn't quite written to it's full potential.

The twist, when delivered, was a little late, a little obvious and a little confusing. Not everyone qould have understood the transition and anyone missing it would become completely lost.

Donna didn't really get any real opportunities to do anything or get involved, this story may have played better as a solo Doctor adventure set after the departure of Donna so that an adventure fully involving Donna could have taken it's place.

However if you enjoy conspiracies and tricky twists as I do and the sheer volume of details you'd find the story much improved despite these things. Also good, once the end of the story arrived was the eventual circumstances of his opponents and more specifically his 'counterpart'.

I've given it an eight - it's a good read but there are better ones.
By:
Hessel Hoekstra, Maassluis, Netherlands
Date:
Monday 30 May 2011
Rating:
6
When you read the backside of the book, and the first 40 pages, you might think: great story! But nothing is as it seems, and the supposed hunt escalates into a deadly game of bluff between the Doctor and Sebastiene, which is very confusing towards the reader. The clou of the story came too late, and was too expected. But Messinghams fine writing style compensates the negative points.