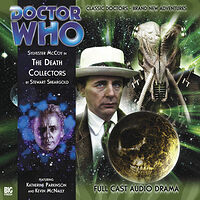 | | | |
| --- | --- | --- |
| | | |
| | Reviews for The Death Collectors | |
| | | |
There are 6 reviews so far. To add a review of your own for this item, visit the voting page.
| | | |
| --- | --- | --- |
| | | |
| | Heavy Breathing, Beeps, and Decay | |
| | | |
By:
Doug, Pocono Summit, PA, USA
Date:
Monday 15 September 2008
Rating:
6
"Death is merely a science, Doctor. Measure it correctly and a cure can be found."

If you decide to listen to The Death Collectors, get ready for a very strange eighty-five minutes. This story is really quite dark, featuring a companionless seventh Doctor, perhaps very near his end, with a couple of veiled references to the events of the t.v. movie.

Here we get a quarantined planet infected with "Decay," a crew that risks everything to violate the quarantine, and a handful of Dar Traders - strange beings who exist on the threshold of death and sound like The Shadow from (classic) season 16's The Armageddon Factor. Sound designer David Darlington has gone a bit crazy with sound effects in this one, and the incidental music matches the grim storyline. It all combines into a listening experience that frays the nerves a bit, though it is kind of interesting, and reminds me of the David Tennant story "42."

The one-part Spider's Shadow is a finishing coda in which the Doctor and a royal court are caught up in a "chaotic time loop."
By:
Matthew David Rabjohns, Bridgend, United Kingdom
Date:
Friday 19 September 2008
Rating:
10
I think Stweart Sheargold has produced an even better tale than Red, and that was excellent enough. This really sounds like a claustrophobic adventure that could and should be on screen. Sylvester Mccoy leads a good cast in a gritty space goth opera style adventure. The dar traders are a good new monster that are bound to be back soon i expect. No complaints from me then. Katarina Olsson delivers another great performance as the computer Nancy. And Spider's Shadow is another tales of the unexpected esque story that really rounds off another great and different Doctor Who audio! Great!
McCoy is able to bring out the darkness and loneliness of the doctor with ease. This tail of darkness and exploration into areas mankind should leave well alone, gives us a dark and compelling story. Part four pulls it down from excellent to good, with a slightly confusing story.
By:
Trevor Smith, Nottingham, United Kingdom
Date:
Friday 18 September 2009
Rating:
9
As a fan of sci-fi story's set on space ships with aliens, I loved this story. It has a really creepy & atmospheric mood. Sylvester McCoy puts in one of his best performances. A really good, thought provoking story. The supporting cast are excellent especially the very sexy Katherine Parkinson from TVs "The IT Crowd."
By:
Trevor Smith, Nottingham, United Kingdom
Date:
Friday 25 February 2011
Rating:
10
I am a sucker for creepy space stations and this is one the best. Poignant & creepy as the seventh Doctor reaches the end of his journey.
By:
David Layton, Los Angeles, United States
Date:
Thursday 4 July 2019
Rating:
6
This is one of the sets that have 1 3-part story and 1 1-part story. Both have the same writer, and the second is a sort-of sequel to the first. Solo Doctor 7 follows a distress call to a space station dedicated to researching a mysterious disease called "Decay." The station is aligned with some beings called Dar Traders, who exist on the brink of death and who "trade," though we do not know what they trade, for people's deaths. Problems with this one for me are that the writer has not really worked out the properties of either Decay or the Dar Traders all the way through, which means that they tend to be whatever is needed at the moment to serve the plot. The 1-parter is a timey-wimey story in which The Doctor and couple of princesses are trapped in a time-loop that is gradually getting chaotic. The lesson seems to be "tell your little sister she's pretty." Writer Sheargold apparently likes his extra-dimensional beings that poke into our universe. As with The Death Collectors, these elements feel like lazy writing to allow whatever the writer wants to happen rather than to work out the logic of the initial idea.