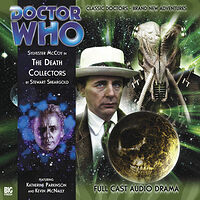 Cover blurb:
'There is only death.'
A virulent disease that killed millions. A missing scientist. An ancient race of salvagers who collect and preserve the dead. The quarantined planet Antikon connects them all.
When the Doctor arrives on a sky station above Antikon, a single accident has already set in motion a chain of events that will mean the death of every living thing.
And the only way he can stop it is to die. Again.