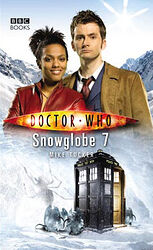 There are 4 reviews so far. To add a review of your own for this item, visit the voting page.
a great book really liked it a great read. Quit
ineresting.
This is also another 10/10 book. Mike Tuker had improved from The Nightmare on Black Island.
By:
Gary Brook, Brisbane, Australia
Date:
Thursday 31 July 2008
Rating:
9
SnowGlobe 7 is one of the best new series books there is. Mike Tucker is a great author. Very well written, the Doctor is exactly like he is in the show. One of the best things in this book, is who the Doctor and Martha meet after they separate. Martha spends time with a telepathic Flisk called Ku'ra, and the Doctor meets a robot called Twelve. It's a shame Twelve didn't become a companion, though.

9.7/10
By:
4nicolas2, Canada
Date:
Tuesday 7 July 2009
Rating:
6
Well written, but the story itself is very poor: an alien who wakes up from the ice after several years (where did I see that before? hmmm...) while a virus is spreading... With no really interesting moment and a weird storyline where a certain species came to Earth and coexist pacifically with the human. Huh! It's only worth the price...