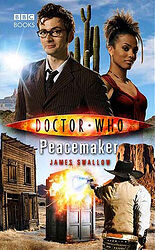 There are 4 reviews so far. To add a review of your own for this item, visit the voting page.
By:
antony, england
Date:
Wednesday 12 March 2008
Rating:
7
Mmm! I'll have to admit, not a bad idea. But, as usual, they messed it up with a couple of things.
1: that Bad Wolf moment was WAY too late. Rose has been and bloody gone.
2: Certain bits just won't get to the point.
C! No, 3: Alien tech being used for medical purposes, not the most original idea.
But a good book, apart from those things!
By:
grant williams, redruth cornwell
Date:
Saturday 19 April 2008
Rating:
10
This book is brillant. a great twist and the end is great. When got in to it cound not put it down A GOOD READ......
By:
Tim, Australia
Date:
Saturday 19 July 2008
Rating:
10
I'm really suprised at the less than wonderful rating this book scored from everyone else... admittedly it's aimed at a more mature audience - probably better for 14+ but even so it was a very well written book.

The Doctor and Martha are well written, though there could have been a bit more humour - the story was a little dark and serious though. The other characters have lots of substance and were well used as well.

The plot on the other hand was absolutely stellar. Really, as far as Doctor Who books go it was chock full of science-stuff for those who are so inclined but not impossible for someone who doesn't like that kind of thing to understand the scope and the power of what was involved. There was some Time War stuff, some Time Lord stuff, mentions of Rose... even a name drop of 'Bad Wolf'. The bad guys were fascinating too.

There was also quite a lot of insight into the character of the Doctor and his beliefs and his pain. Martha also fetched up well with her determination and steadfast loyalty shining bright.

Plot is a clear 10. The Characters score a 10 too and considering the gripping involvement of the story was created in such a short book (they're all too short!) I'd give it a 9 for how thought provoking it was.
By:
C G Harwood, Dunedin, NZ, New Zealand
Date:
Friday 12 September 2008
Rating:
10
Absolutly brillant!!!! This book i could not belive how fast i read this book, I couldn't put it down. All the charecters were interesting and i cared about them all, even the enemy in this.
I loved the references to the past series (especialy The OK coral gunfight reference). I disagree with Tim, i found the book to be very funny at times.
If you new to these books read this one first. This is genuine Doctor who, that is not hard to follow.
No hesatation in giving 10 out of 10.