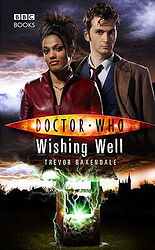 There are 5 reviews so far. To add a review of your own for this item, visit the voting page.
| | | |
| --- | --- | --- |
| | | |
| | Can't help but wish for more | |
| | | |
By:
not really Tennant no more joking, poop smells like CHEESE
Date:
Saturday 2 February 2008
Rating:
8
WOOOOOH! ANTONY WANTEE MORE! Trevor is a writing genius. This book bloody rulz. Massive alien trapped inside the village well, an alien stone and mutants all come together to form one of the Doctor's most amazing adventures to date...
this book was very good a hope trevor baxendale writes a another book .
| | | |
| --- | --- | --- |
| | | |
| | Be careful what you wish for... | |
| | | |
By:
4nicolas2, Canada
Date:
Tuesday 7 July 2009
Rating:
7
Interesting piece of book, characters are generally nice but lots of them are simply too much of a caricature. The idea behind it is good, but the end is one of the worst of the serie so far: amazing powers for the Doctor could be great, but not when it only respond to a need to defeat an enemy (Doctor- oh! I remember now that I can do amazing thing with my mind, even defeating this enemy. Why didn't I think of it before in this book, it could had save some life?)
By:
patar, Warrington
Date:
Friday 2 October 2009
Rating:
5
Didn't really like it. The story was quite boring. The write made it hard to picture the villain attacking and stuff for some reason. Not much in the characters either.
By:
Tim, Australia
Date:
Sunday 17 January 2010
Rating:
6
Average fare as far as Doctor Who books go, relatively interesting and original plot idea, a couple of reasonably good original characters, decent characterisation of the Doctor but not so much with Martha and nothing particularly memmorable.

The plot stumbled to the climax with no real twists or events, the conclusion ...and ending pretty banal and unimpressive. Easily in the bottom five of books I've read in the last year.

Better luck next time, hopefully.