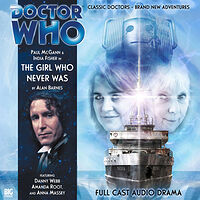 | | | |
| --- | --- | --- |
| | | |
| | Reviews for The Girl Who Never Was | |
| | | |
There are 4 reviews so far. To add a review of your own for this item, visit the voting page.
| | | |
| --- | --- | --- |
| | | |
| | Lackluster Finale for Charley | |
| | | |
By:
Doug, Pocono Summit, PA, USA
Date:
Thursday 24 January 2008
Rating:
6
I was thinking that Charley's final story with the Eighth Doctor would a great one. Once again, my hopes were dashed.

While we do get a good cast and fine acting here, as well as fine production, we also have another script that frequently and abruptly jumps back and forth across different time zones - back and forth among three this time. This makes for a story that's a bit confusing to start out with. Added to this, we get more rubbish technobable - this time it's "temporal corrosion." This temporal corrosion seems to flare up only when it helps move the script along, and is fairly inexplicable. Does it really damage things or not? Why does it trigger the TARDIS's HADS system, yet it doesn't kill humans? How do humans become carriers of temporal corrosion without being corroded themselves? (I feel like I'm Peter Jones, doing an episode closer for The Hitchhiker's Guide to the Galaxy here...)

As to the Cybermen, they're okay, but very much an anticlimax here, after Human Resources. Almost an afterthought. And I feel that Byron, who starts out being a very intriguing character, ends up being wasted as the character slips into insignificance through the rest of the story.

What saved this story for me and adds points to the rating is its crazy-twist out-of-nowhere ending, which elicited a Tenth Doctor-like "WHAT??!" out of me. I'll say no more about that.

Overall, The Girl Who Never Was is a somewhat sad, somewhat dissatisfying ending for a character who was for me, a quite significant, well-liked, and long-running presence in the Eighth Doctor audios. I just feel that Charley deserved a much better sendoff, and it seems like this story could've been done so much better.
| | | |
| --- | --- | --- |
| | | |
| | Explosive finale for Charley.... | |
| | | |
By:
Matthew David Rabjohns, Bridgend, United Kingdom
Date:
Friday 4 April 2008
Rating:
10
I love the harking back to the past with the brilliant sounding cyber planner. I love the Invasion especially for the cyber planner, and to hear it strong and alive again lovingly recreated by big finish is a cool thing to behold indeed. And the cybermen are as moronic as ever. here they really are rusty and loopy in a tale that is a fine end to the first chapter of Charley's life with the doctor. India Fisher really seems to give her all in a great story. ALan Branes delivers a really good tale. This to me actually even feels a little bit like a fairy tale with many elements that make up the best of them. Poor old Charley gets taken over by the cyber planner! And the resolution of the doc's and charley's relationship is nice too. They never hated each other did they. Its just that everyone has arguments. Just glad this story ends on a very high and emotional note indeed...
By:
Matt, Aylesbury
Date:
Thursday 23 December 2010
Rating:
6
First, I need to admit that I am not a big fan of Charley Pollard and the Eighth Doctor. I think Charley is a bit too pathetic, and I much prefer the later stronger Charley.

However, this story is very good and sees lots of backwards and forwards in time (timey wimey) which I really do enjoy! Paul McGann is an excellent Doctor (though again I prefer him in later audios for radio, etc). Finally, I like the conclusion to this and much much better stories to come - Charley and the Sixth Doctor really do work well together & create a very exciting set of stories to come....luckily anyone reading this in 2010 do not have a long wait to hear them. You can do it right now.
By:
David Layton, Los Angeles, United States
Date:
Monday 23 August 2021
Rating:
7
For her sendoff from Doctor 8 world, Charlotte Pollard, Edwardian Adventuress, gets a much better vehicle than C'rizz did in the previous episode. Given Charley's backstory, it had to be a time-twister. This one involves a mysterious vessel from 1942 off the coast of Singapore, a dodgy Australian scavenger named Something Byron or Byron Something, and The Doctor and Charley getting split apart in time, each time zone affecting the other. It's a nice little puzzle of a story with the return of surprise villains, as long as one doesn't take a good look at the cover art. The ending seems to me too convenient. It's another memory erasure thing, which I think gets overworked in Doctor Who. Still, this is a quite entertaining 90 minutes.