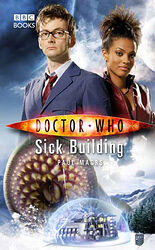 | | | |
| --- | --- | --- |
| | | |
| | Reviews for Sick Building | |
| | | |
There are 6 reviews so far. To add a review of your own for this item, visit the voting page.
By:
Philip, Catford
Date:
Tuesday 11 September 2007
Rating:
3
Conventional sub-kooky plot, thin on invention and blandly-written. No characters only strident generics. 3 out of 10. Only actually bad on occassions and generally because the writer's English is so uninteresting and fitfully jarring.
A great book loved it read it fast
Like the last dodo, the word i am using to describe this is interesting! The house is a killer and the description of the voracious craw was brilliant. (Reccomended)
By:
Matthew, leeds
Date:
Saturday 9 August 2008
Rating:
3
This was very dissapointing. Its slow and theres not much danger or shocks. And for goodness sake the doctor defeats a monster with a burp!!!
By:
Luke Walton, Leicester
Date:
Tuesday 21 October 2008
Rating:
6
This book is good,but if for a more mature audience and think that it would not be recommend for example this story contains talking vending machines and the doctor defeats the monster with a burp oh and by the way the monster that's most talked about only gets a two page appearance!But also it's difficult what the age range is for example Amanda when she dies she comes back a life to do battle with tiermann but its described like a horror movie! Anyway give this book a go if you want something to kill your boredness if not read the many hands or Martha in the mirror zey are brillianta!
| | | |
| --- | --- | --- |
| | | |
| | I loved it, but I don't know why... | |
| | | |
By:
4nicolas2, Canada
Date:
Tuesday 7 July 2009
Rating:
9
I really liked it (except for the end, the sound idea was great, but the burb not so...). The characters, especially the father, were very intersting to read about, their story, their background, what came out of it... I remember having a very good impression about it (writing, originality, the death of a character (not spoiling anyone),...)