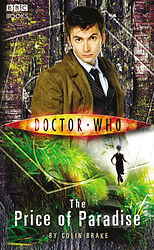 | | | |
| --- | --- | --- |
| | | |
| | Reviews for The Price of Paradise | |
| | | |
There are 6 reviews so far. To add a review of your own for this item, visit the voting page.
By:
The Next Doc., Sunderland
Date:
Thursday 25 January 2007
Rating:
5
Don't read it unless you've got summit better to do
Its not that good
| | | |
| --- | --- | --- |
| | | |
| | Doctor Who meets the Green Movement | |
| | | |
By:
H. N. Y., Mid, Nowhere
Date:
Wednesday 5 December 2007
Rating:
7
I noticed that so many people seemed to placed this as a mediocre novel in the new BBC Doctor Who archives and I suppose it could be seen that way. I only have to disagree that it is not so much a book inspired by Doctor Who as it is one inspired by conservationism.
As I began reading this novel, I was first drawn to all the talk of keeping a planet untouched and pure, the thought of a planet as one's keeper and provider not some lump of rock you were lucky enough to land on. This was a breather from the normal 'Doctor goes in, saves the day, leaves without a care to the tampering he has done on the alien world'. Granted, that is harsh to say, but it happens quite often. This book made more sense with the Doctor's character promoting the conservation of a very natural world. There even some nice jabs at our time and our over use of natural resources and nonchalance toward the future of Earth.
On all other lines of fire, the story is somewhat dull, not without action mind you, but it is somewhat predictable. Thus, if you are just looking for something Whovian to read with maybe a little modern day twist to it, it's a good read. Just don't expect to much if you just don't get into the Green Movement.
By:
Hello mr cheese, hi
Date:
Saturday 2 February 2008
Rating:
8
If you want to be in a fiction paradise you have got to read this book. The Witiku monsters are well described, and it is truly an awesome adventure about what one man would do to save his home. the idea of the Witiku is absolutely rockin'.
The 1st Doctor.Who book I ever read was this The price of paradise. Its brill and 10/10
By:
Camden, Australia
Date:
Wednesday 8 October 2008
Rating:
8
Colin Brake did a great job on this novel. The idea of a planet that is completely isoclated that keeps its ecosystem perfect is amazing. And the idea that if the planet has any contact from other planetes e.g metors etc it will become unstable causing diasters. And the chacrters where good but wern't fully explored. Overall a good read.
By:
Ollie, Kent
Date:
Monday 16 November 2009
Rating:
9
A thouroghly amazing read which had me turning the pages without a stop one of the best Who books out there.