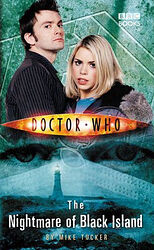 | | | |
| --- | --- | --- |
| | | |
| | Reviews for The Nightmare of Black Island | |
| | | |
There are 8 reviews so far. To add a review of your own for this item, visit the voting page.
By:
The Next Doctor, Sunderland
Date:
Monday 22 January 2007
Rating:
8
Absolutely Classical, excactly what you don't expect. Thought it wouldn't be that good, but it turned out fabulous.
By:
the Traveller, the end of the world
Date:
Sunday 18 February 2007
Rating:
9
Better than expected. This is very entertaining, written more in the style of classic Who adventures. Much better than some of the junk that cluttered up series two of the TV series.
Congratulations, Mike Tucker...
| | | |
| --- | --- | --- |
| | | |
| | Dreaming is all it takes... | |
| | | |
7. That sums it up. 7. 7. 7. 7. FISH <><. I can barely remember any of it but the monsters are kwl and so is the evil alien plan. But why a lighthouse. And what the hell does the kid hav to do with it. (Answers on a postcard).
| | | |
| --- | --- | --- |
| | | |
| | Nightmares, Gods and long lost memories | |
| | | |
By:
Gazza, South wales
Date:
Wednesday 30 January 2008
Rating:
8
I have just finished reading this Odoctor Who book. and now i can proudly put it on my bookshelf.

It tells the tale of wels village Yns Du where no one can leave their houses after dark as monsters prowl the streets.

The book has a bit of someting for everybody. Monsters nad plans to resserect alien Gods and a woman's long lost son.

A greaat read.

P.S well done Mike Tucker on your first Dr who book for the first series!
By:
i've got 2 on pirate loop , and I am a dalek so *farting noise*
Date:
Wednesday 6 February 2008
Rating:
8
WOOOOOOOH! MESA IMPRESSED! The story is brilliant and it features some of the best Doctor Who monsters of all time! As well as the Daleks, the Slitheen and the Nestene Consciousness! WOW!
This story resembles one I have watched before. I had long before perchased Horror of Fang Rock and thought it to be fantastci! I must say that this book must be- in some sort of fasion a sequel of sorts. I must admit that Rose comes to life like the Doctor does and that the setting is as believable as any but i felt that the beginning was a tad overwhelming. I loved it though, took me along time to read through but I got there in the end! Fantastic!
By:
Neeva, US
Date:
Tuesday 22 September 2009
Rating:
8
Fans of Doctor Who will have already encountered each story element of this book from previous stories, both in the new series and in the old. That said, I like these things and haven't encountered them in a couple of years - so, it's all good.

A plenitude of monsters, abandoned spooky places, nutters with driftwood collections (and guard ducks), and a culmination of events that could lead to the end of life on Earth as we know it.

You can also make a drinking game out of it - taking a drink every time you read the word "cables", and make it a double each time you read "thick cables". Mike Tucker is a visual thinker, and it comes across with plenty of set dressing (the man loves him some cables).

The dialog and characterization of The Doctor and Rose were well done, and welcome lite fare. Not too many surprises in here, a story built of cliches, but still a fun time that I am happy to have enjoyed. (7.5 stars)
By:
Jay Rogers, Boardman, United States
Date:
Saturday 14 January 2012
Rating:
10
This was the first Dr. Who book that I have purchased. I thought it was awsome!