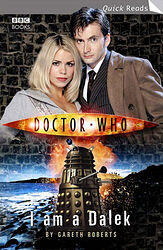 There are 9 reviews so far. To add a review of your own for this item, visit the voting page.
By:
David Yates, Reading, Berkshire
Date:
Saturday 13 May 2006
Rating:
10
Similar in style to the stories in last years Doctor Who annual. If you liked those you'll like 'I Am a Dalek'

I did expect something a little funnier from our Mr Roberts I must admit. His short stories elsewhere have been little gems - the one in the BF anthology, The Muses springs to mind as being particularly effective. But that's hardly a criticism, as this effective enough without having to be being roll around funny.

The Dalek is respectfully portrayed and in keeping with the current TV series. Being a xenophobic unstoppable war machine, in fact the violence just as cold and brutal as they have been on the telly.

The two main supporting characters, Kate and Frank are surprisingly fleshed out considering the page count and that's a testament to Gareth Roberts deft hand at making them believable with a few short sentences. Frank in particular gets a nice little piece at the end of the story.

So, in summing up: hardly a Gareth Roberts masterpiece to match A Very English Way Of Death (but what is?) and considering that it's part of the Quick Reads initiative it does its job amicably well.

Very enjoyable.


By:
Piers, Lancashire, UK
Date:
Friday 19 May 2006
Rating:
8
First off, I was never expecting this to be a masterpiece due to the nature of the book, but I was surprised at how enjoyable it was. The Dalek here is well represented, and it's always fun seeing the good Dalek 'catchphrases' from the old series getting a look in.

The only gripe is that the plot has more than a few similarities to the recent episode 'Dalek': inactive lone Dalek from the Time War found in an underground bunker; reawoken by a girl's touch; determined to inform the Doctor they are more alike than he would like to admit; defeated through reasoning etc...

That aside, this book is a fun read, and taken at that level it is more than successful.
By:
the Traveller, An underground bunker
Date:
Sunday 28 May 2006
Rating:
7
A light, easily digestible read. The Doctor and Rose are written true to their television characters, and there is some nice Dalek action. There is a "recycled-seen-it-all-before" type of feel but this can be ignored if you're prepared to simply enjoy the story.
By:
Hatman, ???
Date:
Tuesday 25 July 2006
Rating:
7
[insert the traveller's review here]
| | | |
| --- | --- | --- |
| | | |
| | A Nice Way to Spend a Couple of Hours | |
| | | |
First off, this book gets some serious Brownie points just for being what it is. The idea of using the appeal of a show like Doctor Who to get kids reading little books like this one is great, and it'd be nice to see some more of them.

Yes the story was a little bit of a rehash (although that didn't necessarily make it predictable) and given how long it was it had to be incredibly fast-paced where it could have done with a little more length to really develop where it was going, but that isn't the point of a book like this.

Considering what this book is meant to do, it does it well. It's amusing and exciting, and the two extra characters in it, Kate and Frank, don't give off the impression of being two-dimensional either, which in something that's more of a short story at 20,000 words than a novella is impressive. There's a couple of nice moral quandaries in there that show up the new Doctor's character really well, especially the scene in the sea at the bottom of the cliff with the Dalek.

All in, it's a nice way of spending a few hours in the afternoon, and far better (especially for the young adults it's aimed at) than sitting down in front of the TV to watch some soap opera or another, and that's what's important.
| | | |
| --- | --- | --- |
| | | |
| | Daleks are back, and ths time they mad! | |
| | | |
Bit small, but overall a bril read. Of course, i finished it withn an hour, but i enjoyed it all the same. Everyone who reads this, type in the GOOGLE toolbar DOCTOR WHO COMIC MAKER, click the top option on the menu, go to SEARCH COMICS, type down in the USERNAME SEARCH my username: Saxon4, and read CAPTAIN JACK IN WASTE NOT, WANT NOT and any other captain jacks stories. Enjoy! Now, back to the book. Kate Yates is an amusing character who just seems really unlucky and the "Dalek Factor" is just wierd. Thank u 4 ur time!
By:
hello, hello
Date:
Wednesday 6 February 2008
Rating:
8
Ok! As one of the biggest book fans in HISTORY, I don't really read smaller books like this 1. But when I got further in, I couldn't put it down. For such a small book it really is absolutely brilliant. The idea of the "dalek factor" is brilliant and it just rulz as a story. RECCOMENDED!
By:
Adam Regula, Horseheads, NY, United States
Date:
Monday 4 June 2012
Rating:
8
A fun quick read about the Daleks. Good to EXTERMINATE some free time!
By:
Matt Saunders, Buckinghamshire, United Kingdom
Date:
Monday 4 March 2013
Rating:
8
A really good read and a book that can be completed in an hour/two hours. It is a great idea - providing an opportunity for children (and adults) who are not into reading. The hope then is that the non-reader will want to read much more.

It's a good little story and though a similar plot to other Dalek stories is full of fun, sadness and lots of tenth doctor brilliance. Roberts is an excellent author, and he's written a great little story. It can be read by adults and children alike. Highly recommended.