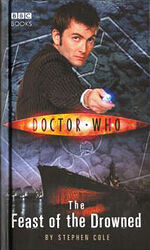 | | | |
| --- | --- | --- |
| | | |
| | Reviews for The Feast of the Drowned | |
| | | |
There are 7 reviews so far. To add a review of your own for this item, visit the voting page.
| | | |
| --- | --- | --- |
| | | |
| | The most 'grown up' novel so far. | |
| | | |
By:
David Yates, Reading, Berkshire. UK
Date:
Wednesday 10 May 2006
Rating:
8
The best of the three tenth Doctor books published so far without a doubt. It managed to satisfy me as a EDA reader and as a new series viewer.

No mean feat.

Considering this must've been written with only scripts to go on, the tenth Doctor is fully realised and is definitely the Doctor DT portrays on screen.

It had the RTDness (the fast pace, character comedy, family elements and no overt technobabble) of the new series down pat, while retaining the essence of the EDAs (plot with plenty of meat on its bones and a long enough story to feel like a full blown novel – as opposed to the extended telly adventures that some of the previous novels have fallen foul of).


If you're an old school fan and you've only ever read the Virgin/BBC books this probably as close to them as this line of books is going to get.


Give it a go.

By:
Hatman, ow, make it stop!
Date:
Saturday 17 June 2006
Rating:
6
this is the 1000th review. yay! it was ok...
in parts
While I'm only now starting to get into Doctor Who novels (this was only my second one, the first being the EDA's 'Book of the Still') I found this one good fun, gripping, and well written.

The problem I'm having with being a new Who fan is that a lot of the explainations don't really make much sense to me. 'The Book of the Still' left me incredibly confused. I didn't have this problem with 'The Feast of the Drowned' in the slightest. Everything was explained gradually and carefully (probably because it's written for people half my age, but there you go) as opposed to there being this huge 'download' of information at the end to confuse me.

I found that in the first few chapters the Doctor's character didn't really come across properlly, like David, I quickly assumed that this had been written before anyone saw David Tennant acting the role, and I strapped myself in for more of a feat of endurance than an enjoyable experiance. Fortunately, I was wrong, and after the first handful of chapters, Cole seems to get a handle on DT's Doctor and writes him brilliantly.

The whole book is very visual, a little bit scary and really, really good fun. When I picked it up, I knew that it's written for the YA crowd, so I wasn't expecting much, but the book completely surpassed all my expectations and even after only two books I can see that some of the conventions used in the old books (like stating something is explained to someone without actually explaining it to the reader) are starting to sneak their way into the new ones, which can't be a bad thing.

In short, maybe this book would be a little 'young' for the hardened reader of Who novels, but as one of my first, I found it a really, really good introduction and something that's going to soften my entry into reading some of the older books.
By:
Lorna, Wales,UK
Date:
Saturday 24 February 2007
Rating:
8
This was the first Doctor Who book I read it was brilliant! Usally takes me a month to read a book it took me a week!
I seriously reccomend this book to any major Doctor Who fan. There are some good twists in the story and the description of the ghosts are great. <>< MUST READ! Merry Christmas!
By:
Zoey, Windera, Austalia
Date:
Monday 7 January 2008
Rating:
10
I found that this book was exellent. This was another Doctor Who book that I just couldn't put down. I absolutly loved the fact that Rose gose out on her own and, I should stop there so that I don't ruin the book. I absolutly loved it.
By:
Tommy, England
Date:
Tuesday 1 June 2010
Rating:
9
I loved the characteristics of the Doctor especially. He is just like the one out of the TV series. It was also a bit of a laugh, I loved the humour where the Doctor does not understand Keisha's grief and keeps running tests on her. Only bad point is that too much of it is set in "secret London" and there isn't much location variety, other than that, it's great!