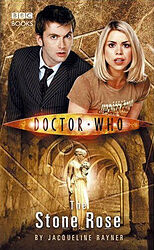 | | | |
| --- | --- | --- |
| | | |
| | Reviews for The Stone Rose | |
| | | |
There are 12 reviews so far. To add a review of your own for this item, visit the voting page.
Description of Rome is fantastic.

Jacqueline Rayner has the Doctor down perfectly. She is also very good with Mickey and Rose.

Not as good as Winner Takes All.
| | | |
| --- | --- | --- |
| | | |
| | A lovely fuffy light-hearted run-around! | |
| | | |
By:
David Yates, Reading, Berkshire UK
Date:
Tuesday 18 April 2006
Rating:
8
An enjoyably sweet adventure that had bouncing ball of a plot. Nice to see time travel used in an imaginative way, rather than a device just to get the Doctor and Rose in and out of the story.

I'm a little unsure as to whether the gladiator's arena really needed to go on quite so long as it did, but that's a minor quibble as it was exciting enough.

The relationship between the Doctor Ten and Rose is lovingly portrayed, David Tennant's Doctor seemed a fully realised character that left me in no doubt as to which Doctor I was reading about.


Easily the most enjoyable book of the new series since Garth Roberts's 'Only Human'.



Recommended.
By:
Hatman, ghjgjgjghfghdsville
Date:
Friday 16 June 2006
Rating:
6
who would have 'delicate' as a name? this aside, it was a good book. I'll say no more.
By:
vicky , carlisle
Date:
Sunday 8 October 2006
Rating:
10
i really loved the book and each chapter makes you want to read on ore and more.
By:
Lorna, Wales,UK
Date:
Saturday 24 February 2007
Rating:
9
I love anything to do with ancient history and too combine that with Doctor Who was great! I like the way the Doctor runs about on his own and does stuff on his own, its nice to know he can! I think this whole book was brilliant!
By:
Antony (me again), ??????????????????????????????
Date:
Tuesday 25 December 2007
Rating:
6
What was the author thinking. A genie just isn't something you put in Doctor Who. It's just a bit boring.
By:
Aaron, Canada
Date:
Friday 7 March 2008
Rating:
3
I just can't stand this authors work. However this is her best so far. She chose a interesting location, has the Doctor's mannerisms down well. Unfortunately she lets it drop by a dull supporting cast, boring villain and contrived situations.
By:
J.F.R, United Kingdom
Date:
Friday 18 July 2008
Rating:
6
I think that this book is really good! I love the way the author picked Ancient Rome for the location. It has a sense of humour and as being a teenager(14 yrs.old), I would say that this book is worth reading for!!!
By:
Tim, Australia
Date:
Sunday 20 July 2008
Rating:
8
I was absolutely enamoured with the book right up until about page 175 - along with the introduction of the plot device that poorly closed the storyline.

The GENIE claptrap was already a sadly contrived idea but it was poorly executed to top it off. A more matured audience, 14+, probably won't appreciate the conclusion as much.

Only the fantastic characterisation of the Doctor and Rose saved this book at all. There could have been many other ways that the book could have come to completion that would have been much more 'Science' Fiction friendly.

Some bits, like the Arena-do were a bit long and while humourous weren't really necessary. The fact that they crossed their own timeline during a self-fulfilling paradox could have been better highlighted with some perspective changes as well and there were bits mentioned in passing that would have made the story better if they'd actually been chapters/story.

The story probably would have got a 5 from me if not for the solid writing up until two-thirds in and that I willingly admit that Ten and Rose are my favourite combination for adventure, storytelling and their dynamics.

As a result it scrapes a 7.5 from me... but I'll vote 8 to encourage the less than 7.5 average to rise.
By:
Bethany, Madison, Ohio
Date:
Tuesday 12 August 2008
Rating:
9
I enjoyed this adventure.
| | | |
| --- | --- | --- |
| | | |
| | A good historicle adventure. | |
| | | |
By:
C G Harwood, Dunedin, NZ, New Zealand
Date:
Monday 8 September 2008
Rating:
8
I enoyed this book, but didn't like the Genie, it only complicated the story in the end. The only other problem i had with this book was the the gladiator's arena, I agree with everybody else that it was too long. As a historicle story this works very well and she has got the Doctor and Rose spot on, I even didn't mind Mickey in this.
An enojyable read but i enjoyed her Winner Takes All more. but they were both good and enjoyable 8 out of 10
By:
rebecca, scunthopre
Date:
Wednesday 6 May 2009
Rating:
10
i like it