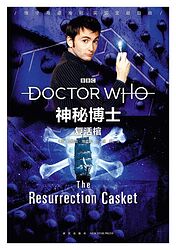 | | | |
| --- | --- | --- |
| | | |
| | Reviews for The Resurrection Casket | |
| | | |
There are 10 reviews so far. To add a review of your own for this item, visit the voting page.
By:
David Yates, Reading, Berkshire UK
Date:
Tuesday 18 April 2006
Rating:
6
A heck of an improvement over 'The Deviant Strain'.

Though a little denser prose-wise then 'The Stone Rose' this still felt like an 'any Doctor' story - with the exception of Kevin, who was a pure 2006 post-Buffy monster. Not that that's a bad thing, in fact it made what could've been a fairly pedestrian novel into pretty good one.



Indeed compared to the lightness of touch that Jac and Garth both put into their last stories, this one seemed pretty run of the mill. They both seem to have got the hang of the fast paced 'RTDness' of the new show, which this didn't seem to have.

Though all that said, I liked the echo of Treasure Island (If you're gonna nick something nick from the best) and Justin Richards is certainly a reliable writer, that's to say - you know what you're gonna to get when you read one of his books. A good solid, a well worked out plot, with a couple of nice twists.

So, nothing to write home about, but for the couple or so hours that it took me to read I thoroughly enjoyed it


By:
Hatman, Not Russia
Date:
Thursday 27 July 2006
Rating:
7
Rather good. Nice use of steam.
| | | |
| --- | --- | --- |
| | | |
| | Better than the Deviant Strain | |
| | | |
By:
The Next Doctor, Sunderland
Date:
Monday 22 January 2007
Rating:
7
A million times better than the Deviant Strain, but not as good as Clockwise Man
| | | |
| --- | --- | --- |
| | | |
| | A very good Tenth Doctor novel!!! | |
| | | |

This Doctor who novel combines the adventurious world of pirates and treasure hunting alongside with space travel and robots.

The Resurection Casket is a must read. Its one of my personal favorates alongside the stealer of deams, only human and the price of paradise.

The Character of Jimm echoes Jim Hawkins from the Treasure island but i think it was intentional to add to the enjoyment of the book.

Justin Richards well done!!!!
the best book I have read because of it's good description . I have got the clockwise man , I can't wait to read it I hope it is as good as this
By:
H. N. Y., Mid, Nowhere
Date:
Sunday 2 December 2007
Rating:
9
I am not one normal,ly to pickup any sort of novel from a TV series but let me just say that these Doctor Who novels have really been satisfying. And of all those I have read so far, this has to be my favorite. One thing I am sure all Whovians worry about as we sit down to pursue a Who novel is indeed: is the writer going to capture the Doctor and all the TV characters mannerisms the way we are accustomed to? But that was one thing that really stuck out in this book. I felt as though the author knew whom it was he was writing about. There was no un-needed conversations or misplaced jokes and babbling of the Doctor and the relationship between him and Rose seemed so natural and clear as it is in the series.
Another problem and disappointment often confronted is in the attempt to match a TV episode, the author will try to hard and make the plot confusing, irrelavent, and often battered with many holes. In general, I would say the plot this author took (robotic pirate in space) was no Who story but he truly impressed me. I hate to say this (no I really hate to say this) but it reads like a Pirates of the Carriabian meets Doctor Who. Over all, well worth the effort to write and well worth reading. Kudos to Justin Richards, staying true to Whovian way.
By:
Antony, Where the hell am I?
Date:
Tuesday 25 December 2007
Rating:
7
Definitely worth reading. It could have been a bit more original (it was very treasure island) but overall a good read. Action packed and i loved Drel McCavity and his psycopathic satate of mind.
By:
dame , redruth
Date:
Wednesday 7 May 2008
Rating:
10
this book is good.it remindes me of my hoilday because i got it at the air port . very understanderle.
By:
Bethany, Madison, Ohio
Date:
Tuesday 12 August 2008
Rating:
9
This adventure was fun to read. It's got everything you need for a good pirate story, with the Doctor Who twist.
By:
Jade Teague, Gold Coast, Australia
Date:
Thursday 21 July 2011
Rating:
8
Great story and enjoyable with lots of twists and an ending that makes you want it to keep going. It's good to read more than once so you don't miss any details.. some things i didn't pick up until the third time.