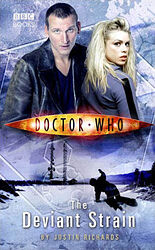 | | | |
| --- | --- | --- |
| | | |
| | Reviews for The Deviant Strain | |
| | | |
There are 11 reviews so far. To add a review of your own for this item, visit the voting page.
By:
rebekka, london
Date:
Friday 7 October 2005
Rating:
10
i am half way thourgh but its really excting. Justin Richards have keept the funny humor in the book as wel as a good read. well done its perfect. i am a really fan. carry on writing. :-)
By:
David Yates, Reading, Berkshire
Date:
Saturday 8 October 2005
Rating:
3
I was thoroughly enjoying this novel, with its bleak atmosphere and gradually building menace, until about half the way though where we get a bit of exposition and then for about – what seemed to me like 50 odd pages, the main characters just running around from place to place narrowly avoiding flailing tentacles. Then another couple of pages where there were some zombies thrown in for good measure. I think maybe a little more work (or perhaps a bit of editing?) on the second half of the novel and it would've been a pretty decent book. Though the writing style did seem a little more mature than the previous releases, I can't help but think that a little more description would've helped too. The Doctor, Rose and Jack seemed well rounded and considering that these last three books were probably written while the new series was being aired is no mean feat.

| | | |
| --- | --- | --- |
| | | |
| | Just when you think you know what's next | |
| | | |
By:
Admiral, Perth, Australia
Date:
Friday 10 March 2006
Rating:
10
The new series of Dr Who books tends to be a "water-down" version of the Virgin / old series BBC / 8th Doctor BBC books. understandalby since they're written for younger readers. Therefore, it's extremely enjoyable when a writer working in that environment can create a real page turning, which is exactly what Deviant Strain is: a page turner you can't put down.

Justin Richards does a bombardment of surprises in this novel. Therefore, some of them you can see coming (I knew what was waiting in the walled off lab before the Doctor knocked down the wall), and some you don't (when the constable attacks Rose).

You can call some things in this novel cliche' and you can call other parts of it a "run-around" but you can't call this story boring.
By:
Manny, Los Angeles, California, America
Date:
Wednesday 29 March 2006
Rating:
8
This is the first Doctor Who book that I have read as here in the states we've just gotten the new season of Doctor Who on Sci-Fi. And this was a real treat for a newbie to the show.

I didn't have to know who the characters were as this book fills in those spots. After watching the few eps that have aired here in the states, this books reads like one of the the eps. It's a great read all about and you can't put it down. Smashing!
By:
the Traveller, the Novrosk Peninsula
Date:
Saturday 8 April 2006
Rating:
10
An entertaining, mature and exciting page turner which would have worked as a two part television story. One of the best Doctor Who books for a long time.
By:
Hatman, outer zorro's house
Date:
Friday 16 June 2006
Rating:
7
grade: B3

the book has made a satisfactory effort and has got a good grade, but this is mainly due to the Russian characters
By:
Zoey, Windera, Australia
Date:
Monday 7 January 2008
Rating:
10
It was great I just couldn't put the book down. It's non stop exitment. I loved it! I spent 3 days readding it cause I couldn't put it down. Please excuse the spelling mistakes.
By:
Aaron, Canada
Date:
Saturday 12 January 2008
Rating:
6
He felt like a 5th wheel in this story. There wasn't room for a character that needs to dominate like he does. At times it felt like things were created because they suddenly thought "whats jack doing now?" This felt jumpy and hurried. I liked the characters, I liked the setting, I didn't mind the idea but as much as I hate to say it I think it would have been better without Jack.
| | | |
| --- | --- | --- |
| | | |
| | One of the best I've read | |
| | | |
By:
Tim, Australia
Date:
Sunday 17 January 2010
Rating:
10
... and I've read most of them now.

Has a good helping of most of the things that make a book great and in pretty much just the right proportions.

The characterisations of the 9th Doctor, Rose and Jack are good, the Russian characters are well designed and used, lots of little subplots which weave in and out, humour and joke one-liners from the show itself, great plot and pace.

Honestly I can't understand why it has such a low rating, it's easily one of the better installments - like another reviewer said it could have easily and wonderfully been adapted to a two part episode. I read it in one go and was smiling when I finished.
By:
Tommy, England
Date:
Tuesday 1 June 2010
Rating:
7
It was an action packed and fairly entertaining read. However, I don't think Justin really understood Jack very well because he was completely unlike himself. It was like he was secretly in love with that immobile girl (forgot her name). If you watch Torchwood you'll know that first, he's gay and second, he isn't that emotional. But the general plot was good and I loved the monsters, they were scary, and plenty of action, a real Doctor Who story.
| | | |
| --- | --- | --- |
| | | |
| | This was a terrific book. | |
| | | |
By:
C G Harwood, Dunedin, NZ, New Zealand
Date:
Monday 7 February 2011
Rating:
9
On tv a few years ago there was a documentary about a naval base in Russia that has all these old leaky ship and submarines. The people looked old and sick and all the ships and sub were rusty and poisoning everything around them. I had the visions of this documentary in my head all the way threw this book.
Justin Richards has captured the felling of freezing cold and horrible place to live very very well. I actually felt dirty and cold as I read this.
The Doctor and Rose are written very well. but I was very impressed at how he wrote Cpt Jack, the main thing to remember in this book is that Cpt Jack can die as Bad Wolf/Parting of the Ways hasn't happened yet, and that made his situations more exciting considering he was probably under the most threat in this book ( and the scene in the sub with the two Russian commandos was brilliant.).
The blue blobs with tentacles were very well done and would love to see something similar in TV Dr Who. But the thing that got me about this book was the body count, this was a blood bath.
This book almost had an Aleans feel about it with the marines keeping the Blobby monsters back, and getting killed one by one. while trying to protect the civilians.
I love Richards writing and he didn't let me down. The only nit-pick I have was that it seemed to end very quickly. But this is defiantly the best 9th Dr novel I have read so far.