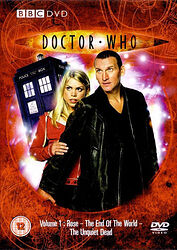 | | | |
| --- | --- | --- |
| | | |
| | Reviews for Series 1 Volume 1: | |
| | | |
There are 6 reviews so far. To add a review of your own for this item, visit the voting page.
By:
Stephen Carlin, Huddersfield, England
Date:
Sunday 29 May 2005
Rating:
6
I must admit that I was in two minds about the new series. For a start, I don't rate Russell T Davies, Mark Gatiss or Paul Cornell highly. Secondly, British TV has gone down hill over the past decade.

My worst fears seemed confirmed when I finally Rose, the first episode of the new series. Appalling dialgoue, an appalling story, appalling story telling, appalling humour and appalling direction (later episodes go to show how poor a director Joe Ahearne is) - my heart sank when I watched the first episode. The trailers had me convinced the series was back with a vengeance, Rose convinced me that the series was doomed. Yet, I knew I had to keep on watching, just in case...

Thank God, The End of the World was far superior. The humour, pathos, dialaogue, direction - all head and shoulders above the previous episode. There was a glimmer of a snse of wonder, something lacking from a great many current SF shows.

The Unquiet Dead was quiet good, better than most of Gatiss's novels. I even chuckled when Dickens remarks "What the Shakespeare!" - a wonderful throwaway line. The only downside is the most over-used idea in the world of Doctor Who fiction from the 90s onwards - possessed dead people wandering around.

Overall, a poor start followed by two good episodes. Enough to convince me to keep on watching. Christopher Eccleston is a wonderful addition to the league of splendid chaps. Billie Piper, to be honest, is unremarkable - not bad, but not outstanding either.
By:
Peter Pavey, U.K
Date:
Thursday 2 June 2005
Rating:
10
This is what doctor who is about pure action without any scaleable trimings. And for a fair price as well.
By:
the Traveller, the end of the world
Date:
Saturday 1 July 2006
Rating:
9
"Run for your life!"

Three episodes of beautiful CGI, fantastic performances, cool aliens, and comedy that's funny. Chris Eccleston is amazing, Billie Piper's quite good as well. Fantastic!
By:
E.B., Australia
Date:
Sunday 9 July 2006
Rating:
7
I thought that the actors in these three stories were exeptional, the special effects amazing, but the stories were not quite up to scratch. The first one was rather average, the second one was admittedly amazingly good (and stood out as an especially good story in the whole series), but the third one was terrible. I mean, ugly zombies and weird ghosts just don't make good sci-fi. Leave them to horror. I also think that the first one focused too much on Rose, which is also a downfall of lots of the first doctor stories. (Though the doctor's humourous comments and exclamations were as good, if not better than usual.) Overall, it wasn't too bad, but not quite as good as I would have hoped.
| | | |
| --- | --- | --- |
| | | |
| | Doctor Who - Series 1: Volume 1 | |
| | | |
By:
Will Brook, Halifax, West Yorkshire, England
Date:
Saturday 31 May 2008
Rating:
7
Rose - A delightfull little episode introducing all the main characters and the plot of the show. Like a 45-minute trailer. Not bad.

The End of the World - Silly but entertaining 'whodunnit' set and a spaceship in the year 5,000,000,000.

The Unquiet Dead - The scariest of the set but a bit slow in places.
| | | |
| --- | --- | --- |
| | | |
| | good beginning for the new series | |
| | | |
By:
Pieter Knotnerus, Ter Apel, Netherlands
Date:
Monday 13 February 2012
Rating:
6
good beginning for the new series