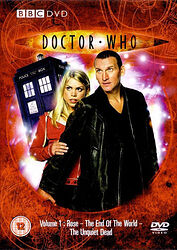 Edition:
UK (DVD)
Title:
Volume 1: Rose - The End of the World - The Unquiet Dead
Released:
May 2005

Publisher:
BBC Video
Format:
1 x DVD
Owned:
Buy:
Note: Released before Series 2 was confirmed by the BBC, hence why the title doesn't mention "Series 1".
Cover blurb:
"Fast, funny, scary and beautifully acted." Financial Times
Meet the new Doctor and his companion Rose as, together, they set out across space and time in a series of exhilarating adventures and deadly confrontations.
ROSE
When Rose Tyler meets a mysterious stranger called the Doctor, her life will never be the same again. Soon, she realises that her mum, her boyfriend, and the whole of Planet Earth are in danger. The only hope for salvation lies inside a strange blue box...
THE END OF THE WORLD
The Doctor takes Rose on her first voyage through time, to the year Five Billion. The Sun is about to expand, and swallow the Earth. But amongst the alien races gathering to watch on Platform One, a murderer is at work. Who is controlling the mysterious and deadly Spiders?
THE UNQUIET DEAD
The Doctor takes Rose back through time to 1869. But in Victorian Cardiff, the dead are walking, and creatures made of gas are on the loose. The time-travellers team up with Charles Dickens to investigate Mr. Sneed, the local undertaker. Can they halt the plans of the ethereal Gelth?