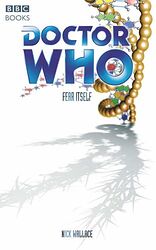 There are 3 reviews so far. To add a review of your own for this item, visit the voting page.
By:
Joe Ford, Eastbourne
Date:
Tuesday 6 September 2005
Rating:
10
After a run of unmemorable books at the begining of the year BBC books have found their stride again and no-where is this more apparent than with Fear Itself, the first book to be written by a newbie in yonks. And it shows! This is wonderfully atmospheric, tense and frightening and probes the fantastic EDA combination of the Eighth Docor, Fitz and Anji is some very surprising ways. The novels is well constructed and hits the reader with a great number of twists that manage to SHOCK as they should. Add to this mix an engaging prose style, some briliantly done characters and a superb cover from Black Sheep and you have a sophisticated chiller that should please even the most avid EDA hater. I loved it.
By:
the Traveller, Space - the final frontier
Date:
Sunday 4 June 2006
Rating:
10
Thrilling until the end, Fear Itself is one of the best BBC Novels. The twists and turns of the plot work perfectly, and everything wraps up nicely at the end. Well done Nick Wallace!
| | | |
| --- | --- | --- |
| | | |
| | This isn't [doctor] who I am!!! | |
| | | |
By:
Hatman, Teletext
Date:
Wednesday 26 July 2006
Rating:
7
Seems like the film Alien in the 'now' bits. a strong book crippled by disjointedness. Strange lack of hats.