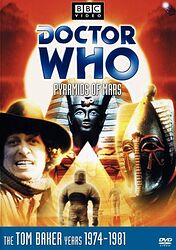 | | | |
| --- | --- | --- |
| | | |
| | Reviews for Pyramids of Mars | |
| | | |
There are 5 reviews so far. To add a review of your own for this item, visit the voting page.
| | | |
| --- | --- | --- |
| | | |
| | Good but by no means the best! | |
| | | |
By:
Rob, Wolverhampton
Date:
Friday 12 May 2006
Rating:
1
Sorry but this is the most over rated story in the history of the series. The first time I watched it I fell asleep. I don't really think it's as awful as a 1 out of 10. I only gave it a 1 to try and drag the average mark down a bit. I'd really give it a 6. On re-watching it I enjoyed it more than my viewing. Still way over rating though. Watch 'The Robots of Death' instead. Now that's a quality!
By:
the Traveller, the end of the world
Date:
Sunday 2 July 2006
Rating:
10
The DVD extras are great (especially Oh Mummy!), as is the story they accompany. Tom Baker and Elisabeth Sladen are at their best here. Excellent.
By:
Matthew B, Cardiff, Wales
Date:
Monday 2 October 2006
Rating:
9
A pacy, enjoyable story but not without its faults. The odd effect fails to convince (particularly Sutekh's final form) and there are some stagey moments (the opening TARDIS scene, some of Sheard's playing), but what compensates is the sheer class of the cast, all giving top-notch performances and all totally committed to the story. There are several highlights; Gabriel Woolf's Sutekh is extraordinarily good, Baker and Sladen are just hitting their stride and clearly relish their scenes together, the location shooting is lovely to look at and very effective – the weird juxtaposition of the Edwardian and the alien is highly unsettling, and the design department work wonders. A solid, assured and satisfying story.
By:
Gareth, Chester UK
Date:
Sunday 11 February 2007
Rating:
10
Brilliant story, I gave it a 10 instead of a 9 though because someone else gave it a 1 just to try and bring it down so Yaa Boo! And as for Robots of Death being better, even a 5 year old could work out who Taren Capel is when he appears barely disguised on a TV screen and then we see his unique footwear. And you complain about this!
| | | |
| --- | --- | --- |
| | | |
| | whats all the fuss about? | |
| | | |
By:
Matthew David Rabjohns, Bridgend, United Kingdom
Date:
Saturday 11 October 2008
Rating:
4
Right, in episode three the good doc says if sutekh were free, he would be unstoppable right, and in episode four he is released, and yet the doc defeats hinm with a stupid gadget from the tardis. i thought sutekh was all powerful. most woeful doctor who story ending there ever was in the entire history of the program. consdiering this is a robert holmes tale, it is shocking. One of his own dud scripts. I was gripped by the first three episodes, and so the ending puts a massive dampener on everything that has happened before. Phillip Hinchcliffe really is over modest when he says this is one of the best scripts Bob wrote. No, sorry, one of the worst more like. Revenge Of The Cybermen is far far more watchable than this stupidly ended story. The set design is fantastic though, and the location work is excellent. The mummies look extremely menacing. Pity about the final episode. Someone should have sptted this as being total garbage. All action and good horror up to a episode of just an angry sutekh lighting the doc for a while. However, the brilliant extras brings this up beyond the 3 out of ten mark, as Oh Mummy is ruddy brilliant! But as a story, Pyramids really let me down. sad.