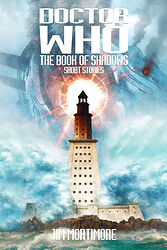 Edition:
UK (hardback)
Released:
August 2013 (Exact date unconfirmed)

Publisher:
Cauldron Press
ISBN:
978-1-291-51779-8
Format:
hardback
Owned:
Buy:
Cover blurb:
The back cover contains the same blurb as the paperback edition. Inside cover flaps read as follows:
Above the city, the shimmering globe of Rhakotis's starship reformed into a torus-shaped event circling a pulsing heart of light. The event burst violently, showering the city with a rain of dimensions.
Soldiers, slaves, husbands, wives, children and animals screamed, their minds undone, their voices one tiny rivulet in a whirling storm of silver. The storm ripped through past and future history, a montage of insanity gathering temporal inertia before contracting, shrinking back to one single moment of spacetime.
The pulsing heart of light swelled, descended.
Touched the city.
Flesh and marble splashed across the streets.
Eighteen glimpses of days-to-come through the rose-tinted peepers of Nebula Award nominated writer Jim Mortimore, author of Skaldenland, Campaign, Doctor Who, Babylon 5 and Cracker.

Jim Mortimore is an award winning graphic designer and composer who turned to writing as a desperate ploy to evade real work.
The Book of Shadows is Jim's first Doctor Who book since the days when manuscripts were delivered to publishers by Pterodactyl Post.