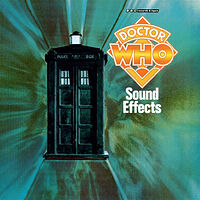 Edition:
UK (CD)
Released:
February 2012

Publisher:
BBC Audio
Format:
1 x CD
Owned:
Buy:

| | | |
| --- | --- | --- |
| | | (Not currently available) |
Note: Part of the BBC's "Vintage Beeb" range, which re-released old BBC LPs on CD with the original vintage artwork and a "vinyl-look" CD. This was the second of three such releases devoted to Doctor Who, the others being Genesis of the Daleks in 2011 and Sci-Fi Sound Effects in 2013.
Cover blurb:
Digitally-remastered sound effects from the 1970s presented on a special vinyl-look CD, with original album sleeve notes
Everyone knows that the TARDIS is bigger on the inside than the outside; and a selection of aural locations from the Doctor's travels will equally broaden your horizons.
No fewer than seven alien worlds are visited, together with some extra-ordinary, extra-dimensional occurences encountered on Earth (Sol 3 in the Mutters Spiral). Add to these an audiogram of the Doctor's own mind processes, TARDIS operations, some weapons for self-defence and your galactic safety is ensured.
Time Lord note: a source of jelly babies is recommended to complete the illusion of time travel.
Vintage Beeb: classic albums first available as BBC LPs, now on CD for the first time ever.