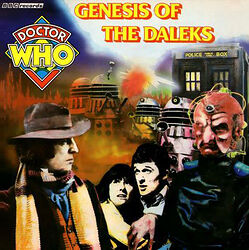 Edition:
UK (1st LP)
Released:
October 1979

Publisher:
BBC Records
ISBN:
None
Format:
1 x LP
Owned:
Buy:

| | | |
| --- | --- | --- |
| | | (Not currently available) |

| | | |
| --- | --- | --- |
| | | (Not currently available) |
Cover blurb:
Daleks...! Wherever I have travelled in time and space I have met no deadlier adversary. Their single-minded destructive instinct has terrorised more peoples on more planets than I have time to mention. As the Tardis was impelled back towards the 20th century, I did not know that I was about to embark on my most dangerous mission... to find the Daleks and avert their creation for ever!
DOCTOR WHO
THE STORY
Doctor Who, with his travelling companions, Sarah and Harry, has landed on a desolate planet called Skaro. As he surveys the barren landscape, a Time Lord appears and tells him that he has been brought there to try and avert the creation of the Daleks, and thus prevent them from becoming the dominant creature in the Universe. He gives the Doctor a time ring to return him to the Tardis when the mission is accomplished.
On the planet a long-drawn out war is taking place between the Thals and the Kaleds, who each live in cities shielded from enemy attack by protective domes. The Doctor and Harry are captured by the latter, whose great scientist, Davros, aware that chemical warfare will cause his race to mutate into a quite different form, is creating a new species — the Dalek — through which he hopes to gain total power.
Sarah, in turn, is captured first by some of the genetic aberrations, the Mutos, who live in the wasteland outside the rival cities, and then by Thal soldiers who take her to their city where a rocket is being built ready for a final attack on the Kaleds.
Aware that the Doctor and the Kaled government are plotting to stop the Daleks, Davros gives the Thals the chemical formula needed to penetrate the Kaled dome. He tortures Doctor Who to find out the reasons for the Daleks' failure in the future, but the Doctor escapes and manages to stop the Dalek incubation process though, he thinks, perhaps only temporarily.
The Thal attack is successful and, with the Kaleds wiped out, Davros is left alone in a sealed bunker surrounded by Daleks who now refuse to obey his commands...!