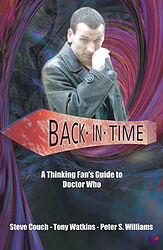 Note: Was due to be followed by a "sequel" in 2013, titled Time's Hero: A Thinking Fan's Guide to Doctor Who, however that book was subsequently cancelled.
Cover blurb:
Doctor Who is a television classic which returned to TV screens in 2005 in a freshly-minted new form. Russell T. Davies gave the show a contemporary refit while retaining all the traditional strengths, making it the TV event of the year. Stunning special effects, mature storytelling and great characters combine to make a thrilling ride through space and time, best viewed from behind the sofa.
Back In Time tells the story of Doctor Who, helping to identify why it is loved so much by so many, and exploring the recurring themes and ideas that underpin this most intelligent of popular science fiction shows.
Steve Couch, Tony Watkins and Peter S. Williams write extensively on popular culture from a Christian perspective and have all been avid Doctor Who viewers for as long as they can remember.
'Fascinating and intelligent — a must for anyone who's ever considered the why of Who.'
Rob Shearman, scriptwriter on the 2005 series of Doctor Who
'This is a fun book for fans of the Doctor who want to go further into the programme's history, its trivia and its big questions of God, the Universe and what it means to be human.'
David Wilkinson, author and lecturer in Science and Theology at the University of Durham.