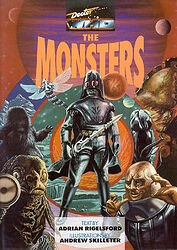 Cover blurb:
The almost thirty-year history of the television series Doctor Who has produced many memorable characters and incidents — but above all, everyone remembers the monsters.
Here, in a remarkable combination of fiction and paintings, are some of the nastiest creatures in the galaxy: the warlike Ice Warriors, the even more fanatically belligerent Sontarans, the ominous Yeti, the terrifying Autons, and many others.
This vivid verbal and pictorial recreation of alien evils is the result of a collaboration between two Doctor Who specialists... Adrian Rigelsford has been studying and writing about Doctor Who for many years, and provided material for Andrew Skilleter's previous illustrated book, Cybermen. Andrew Skilleter's other work includes Doctor Who illustrations for book covers, video cassettes, and calendars.
In Monsters they have combined words and pictures to create a unique view of many of the Doctor's greatest foes.