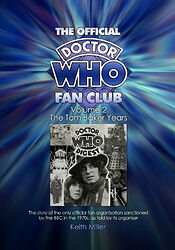 Note: Sequel to Volume 1.
Cover blurb:
"This is the best Dr Who book ever. Fascinating, funny, uplifting and heartbreaking." Gary Gillatt
"Not only essential reading for the countless Doctor Who fans who have followed in Keith's footsteps, but also beautifully written social histories, capturing Britain as it really was in the 1970s. Packed with gossip, Letraset, heartbreak and so many things you never knew that you never knew about Doctor Who, you have to read these books." Gareth Roberts
This is the second in a two volume set which features set reports from Carnival of Monsters, The Three Doctors, Planet of the Spiders, Genesis of the Daleks, Terror of the Zygons and Masque of Mandragora, with a full set of the very first Doctor Who fanzine, and facsimiles of the actual letters between the stars and production team of the show.