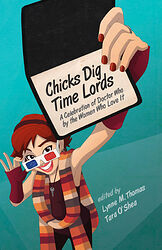 Note: The official publication date was 15 March 2010, but a limited number of copies were made available for sale at the Gallifrey One convention in Los Angeles from 26-28 February 2010.
Followed by Chicks Unravel Time and Queers Dig Time Lords.
Cover blurb:
This book has three settings!
In Chicks Digs Time Lords, a host of award-winning female novelists, academics and actresses come together to celebrate the phenomenon that is Doctor Who, discuss their inventive involvement with the show's fandom and examine why they adore this series so much.
All told, this essay collection is designed to delight male and female readers alike, and to examine some of the extraordinary aspects of being a female Doctor Who enthusiast. Essay topics include Carole E. Barrowman (Anything Goes) discussing what it was like to grow up with her brother John (including his fear of shop-window dummies), longtime columnist Jackie Jenkins providing a memoir of her work on Doctor Who Magazine, novelist Lloyd Rose (Camera Obscura) analyzing the changes in Rose between the Ninth and Tenth Doctors, and much more.
Other contributors to this essay collection include Elizabeth Bear (the Jenny Casey trilogy), Lisa Bowerman (star of the Bernice Summerfield audios), Mary Robinette Kowal (Shades of Milk and Honey), Seanan McGuire (Rosemary and Rue), Jody Lynn Nye (the Mythology series), Kate Orman (Seeing I), Catherynne M. Valente (The Orphan's Tales) and more.
Also featured: a comic from the creators of Torchwood Babiez, plus interviews with Doctor Who actresses India Fisher (Charley Pollard) and Sophie Aldred (Ace).