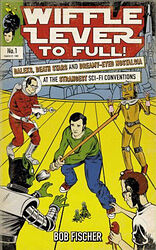 Edition:
UK (1st paperback)
Released:
July 2008

Publisher:
Hodder & Stoughton
ISBN:
978-0-340-96201-5
Format:
paperback
Owned:
Buy:
Cover blurb:
In early eighties Middlesborough, Daleks were on every street corner...and so were Klingons, Vogons and crack Imperial Stormtroopers.
At least that's how it seemed to Bob Fischer — a grubby, wide-eyed eight-year-old growing up in front of the telly. 25 years later, Bob still loves his science fiction and takes off in his Toyota TARDIS for a tour of the UK's cult conventions.
From Doctor Who to Discworld, Star Wars to Star Trek, Robin of Sherwood to Red Dwarf, Bob covers them all, combining misty-eyed memories with a terrifying travelogue of terrible, tortuous... terror. Or something.
On the way he meets Terry Pratchett, Craig Charles, Dave Prowse, Britt Ekland's dog and a man who threatens Peter Davison with a lightsaber. In space, no one can hear you scream. And don't expect much sympathy in Peterborough, either.