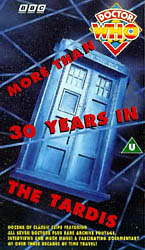 Edition:
UK (VHS)
Released:
November 1994

Publisher:
Unknown
Format:
1 x VHS PAL
Owned:
Buy:
Cover blurb:
'It was sixteen minutes past five (Earth Time) on Saturday the 23rd November 1963, the day after the assassination of President Kennedy, when Doctor Who first materialised on to BBC Television. Squeezed in between the football results and the Telegoons, a legend was born.'
So, from humble flickering beginnings more than 30 years ago, began the eccentric Timelord's crusade against evil. Now this fascinating documentary charts that remarkable career in time travel.
There are dozens of classic excerpts featuring all seven Doctors, clips from the widescreen trailers of the two Dalek movies starring Peter Cushing, plus recently discovered material.
More than just a nostalgic birthday programme, this unique documentary made specially for BBC Video, features:
ARCHIVE GEMS
scenes from the missing 1965 Dalek episode 'DEVIL'S PLANET'
colour film of WILLIAM HARTNELL at a 1966 airshow, plus pictures from his own scrapbook
Dalek creator TERRY NATION on WHICKER'S WORLD in 1968
BEHIND THE SCENES
Action from the studio floor including CARNIVAL OF THE MONSTERS [sic] (1972), DEATH TO THE DALEKS (1973), THE CAVES OF ANDROZANI (1984), GHOSTLIGHT [sic] (1989)
PURE NOSTALGIA
BLUE PETER — the Doctor Who monster competition winners, the unveiling of the Whomobile and the War Machine
NATIONWIDE — the TOM BAKER interview
Pebble Mill At One — interview with Patrick Troughton and visual effects designer Bernard Wilkie
MORE TREASURES FROM THE CUTTING ROOM FLOOR
Battlefield — the Brigadier meets Ace for the first time
Sophie Aldred and the water tank stunt that went wrong
Remembrance of the Daleks — is there more to the Doctor?
All this plus two exclusive Doctor Who commercial breaks, spoofs by CRACKERJACK and SPIKE MILLIGAN, candid moments and bloopers from across the years, specially shot interviews and a cast of favourite Doctors, assistants and of course, monsters.
An ultimate celebration of the world's longest running science fiction TV series, this special BBC Video includes footage from Thirty Years in the TARDIS, originally transmitted on 29 November 1993.